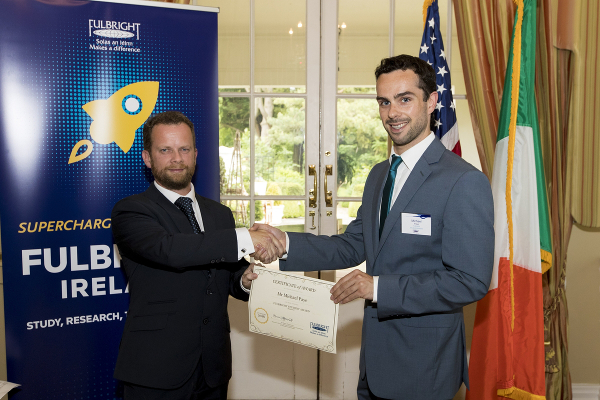 Dr Michael Paye receiving his Fulbright-NUI Award from Dr Dara FitzGerald, Executive Director of the Fulbright Commission in Ireland at the 2016 Fulbright Awards Ceremony.

Dr Michael Paye earned his PhD from the Department of English, Drama and Film, University College Dublin in 2017. During his final year as a PhD student, he was a Visiting Student Research Collaborator at Princeton University, funded by a Fulbright-NUI Student Award.
"From the early stages of my PhD, I knew that international mobility was essential to my identity as a scholar. I research literary depictions of Atlantic fishery collapse, and I am always looking for new opportunities to engage with different research departments, literary or otherwise, to more fully inform my theoretical approach. With one more chapter remaining in my PhD, I felt like I needed a more interdisciplinary base to really iron out some complex ideas, and the Princeton Environmental Institute and English Department at Princeton University offered the kind of mix of environmental and cultural theory that I was developing in my own project. As such, I applied for a Fulbright-NUI student award and was lucky enough to spend six months at Princeton, during which time I took advantage of the excellent resources at the university, gave a guest lecture on an interdisciplinary environmental humanities module, and worked with a mentor whose writing has inspired much of my own PhD research."

"The joint accreditation of both Fulbright
and NUI was a great conversation starter
over in the US."

"Fulbright and NUI were extremely attentive to our needs. That sort of support is something that cannot be overstated in the academic world today,
and I remain hugely grateful"

"The joint accreditation of both Fulbright and NUI was a great conversation starter over in the US. Everyone had heard of Fulbright, but few recognized NUI as an acronym for the National University of Ireland. Being able to discuss universities and research priorities in Ireland in comparison to those of the US always led to interesting debates about college life and US-Irish connections. But what is particularly special about the Fulbright-NUI award is the time it offers and independent outreach it allows. I came over from Ireland with my partner, and the funding and mobility of the award enabled us to stay in New York City for the first three months of my six-month stint in the US, during which time I led a reading group at Brooklyn Public Library, visited Milwaukee for a conference, and took in some jazz in Chicago, experiences that I look back on with great fondness."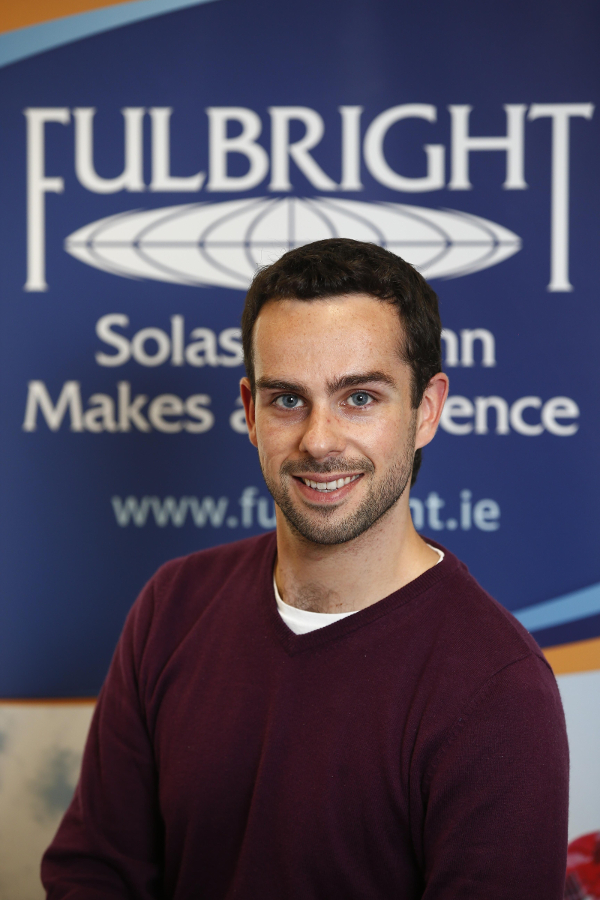 Dr Michael Paye, 2016 Fulbright-NUI Student Award recipient.
"My partner and I were expecting a child during this period, and Fulbright and NUI were extremely attentive to our needs. That sort of support is something that cannot be overstated in the academic world today, and I remain hugely grateful not just for the professional development offered by the Fulbright-NUI award, but the understanding extended to my family. Moreover, I came away from the experience with more confidence in my ability to secure international funding and create interesting research. As such, immediately after my viva, I applied for a Marie Skłodowska-Curie WIRL-COFUND Postdoctoral Fellowship at the Institute of Advanced Study, University of Warwick. I have been offered a Fellowship at this Institute, and I know from my US experience how to hit the ground running at a new university and forge meaningful collaborations. I look forward to connecting with NUI and Fulbright alumni in the UK, as well as developing new research and expanding my expertise."
For more information please see the Fulbright-NUI Student Award section on our Post-Doctoral Research Fellowships page