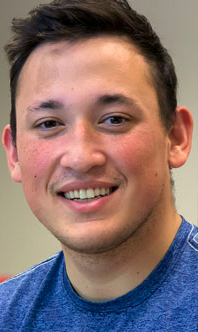 Danny Collins


Danny Collins, a graduate of University College Cork, was awarded an NUI Travelling Studentship in Cell Signalling in 2019. .
"Having completed my BSc Honours in Biochemistry at UCC, I was hoping to pursue a graduate course in Cell Biology. The Summer of 2018, I interned at The Babraham Institute working on cell signalling as an Amgen Scholar. The opportunity provided me an invaluable insight into the field of life science research. During my final year of my Bachelor's degree, I applied to the Graduate Programme at The Babraham Institute to join the Stephens and Hawkins Lab Group. The aim of my research is to characterise the importance of synthesising lipid molecules known as phosphoinositides. Phosphoinositides are a branch of phospholipids involved in essential cellular functions, including defining cell membrane identity, signal transductions and membrane trafficking between organelles. Particularly, we are interested in an enzyme known as CDS2 which catalyses the formation of an immediate precursor of phosphoinositides from phosphatidic acid. The significance of CDS2 activity has been previously highlighted in drosophila but little work has been done in mammalian systems. We are investigating the effects of CDS2 deletion in murine macrophages upon stimulation of a well-known signal transduction pathway, Phospholipase C signalling.
Since arriving at The Babraham Institute last October, I have fully engaged with my project. Alongside my research project, I find myself playing rugby with Fitzwilliam College and Cambridge University Rugby Club where I have earned a position on the Blues Squad. I recently received a winning Blue in the Men's Varsity match 2019 against Oxford University. The Institute and Fitzwilliam College have provided me with the upmost support and guidance to conduct my project even in these uncertain times of the current COVID19 pandemic.

"Being a recipient of an NUI Travelling
Studentship has granted me the exciting opportunity
to conduct research in phosphoinositide metabolism
in a leading Institute of Aging and Disease."

Being a recipient of an NUI Travelling Studentship has granted me the exciting opportunity to conduct research in phosphoinositide metabolism in a leading Institute of Aging and Disease. In addition to this, I have immersed myself in a well-connected scientific community. Not only has the NUI award given me generous funding to conduct research, it has also allowed me to access a wide spectrum of training courses and facilities including lipidomic mass spectrometry. The advice I would give to prospective students applying for the NUI Travelling Studentship is to work closely with your supervisor on your proposal and ensure the hypothesis is clear and detailed for experts in your field of interest but understandable for an interdisciplinary panel. I also found it important to explain the importance of my proposal in a wider context. One of the biggest challenges being a life science researcher, is losing sight of the bigger picture that your proposal attempts to address. It can be easy to get lost in the land of Life Science jargon! I would advise to practice science communication and having informal chats about your proposal to people unfamiliar with your field of research."