11.11.2009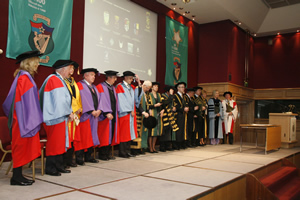 The NUI Honorary Conferring 2009 will be held on the University's Charter Day, Wednesday 2 December 2009. On that day the Chancellor, Dr Maurice Manning will confer honorary degrees on the following candidates:
Tom Arnold, Chief Executive, Concern
Mr Justice Donal Barrington, retired member of the Supreme Court
Dame Jocelyn Bell Burnell, Astrophysicist
Dorothy Cross, Artist
John White, General Secretary, Association of Secondary Teachers of Ireland.
The ceremony will take place in the Royal Hospital Kilmainham.