22.02.2013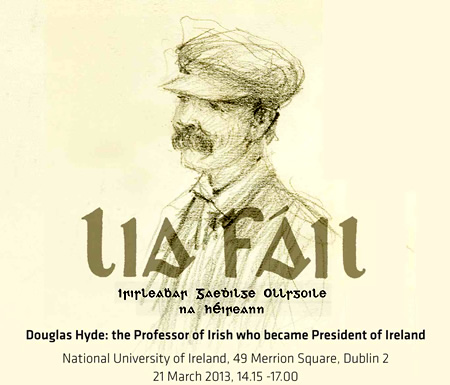 National University of Ireland, 49 Merrion Square, Dublin 2
21 March 2013, 14.15 -17.00

The National University of Ireland is holding a seminar to explore aspects of the life and achievements of Douglas Hyde, first President of Ireland. Founder of the Gaelic League (Conradh na Gaeilge), Hyde became first Professor of Modern Irish in UCD in 1909. In that year, he was appointed a member of the first NUI Senate and was an active member of the Senate of the University until 1919.

Hyde (an Craoibhín, Dúbhglas de h-Íde) was editor of Lia Fáil an Irish language scholarly journal published by NUI. Four volumes of the journal appeared between 1925 and 1932 (the year of Hyde's retirement from UCD). NUI is publishing a facsimile reproduction of the Journal, edited by Liam Mac Mathúna, with an introduction by Seán Ó Coileáin and an article on Hyde's Presidency by Dr Maurice Manning, Chancellor of NUI. Following the seminar President Michael D. Higgins will launch the publication.
The seminar will be chaired by Dr Maurice Manning.
Speakers will include:
• Professor Liam Mac Mathúna, editor of Éigse
a Journal of Irish Studies published by NUI (the successor to Lia Fáil)
• Brian Murphy, UCD
• Dr Máire Nic an Bhaird, Froebel College of Education
• Professor Seán Ó Coileáin
• Cormac Moore, author of The GAA v Douglas Hyde
Places are limited to so early booking is advisable.
To reserve a place email registrar@nui.ie