18.07.2014


Colleen Dube, Executive Director of The Fulbright Commission and Dr. Attracta Halpin, Registrar of the National University of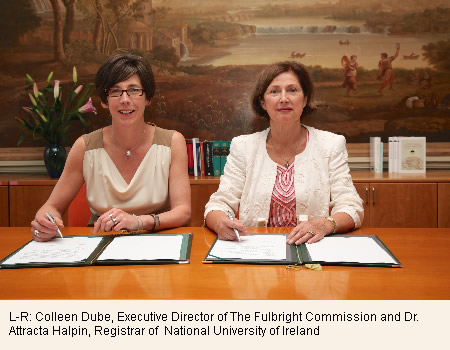 Ireland signed a memorandum of understanding to enable PhD candidates from a NUI Constituent University or other NUI member Institution to travel to the United States on a Fulbright Award to complete postgraduate research or study in the United States for a period of 4-12 months.
Two Fulbright – NUI Awards valued at €12,000 each have been awarded for the 2014-2015 academic year to Ms. Treasa De Loughry and Ms. Alena Yuryna Connolly. Ms. De Loughrey is a PhD candidate in English literature at University College Dublin who will undertake research in environmental humanities and explore how contemporary global and postcolonial novels have registered world-systemic crises. Ms. Connolly is currently enrolled on a PhD in Information Systems Security at NUI Galway. While at the University of California – Berkeley, Alena will research socio-cultural measures that promote security-cautious behaviour of employees in organisational settings.
Additional Fulbright - NUI grants will be made available for the 2015-2016 academic year. Prospective or registered PhD candidates who hold an honours bachelor degree or masters degree from an NUI Constituent University or other NUI member institution, may apply for the award.
Applications for the 2015-2016 Fulbright–NUI Visiting Researcher Award will open on Tuesday August 26th 2014 and close Wednesday November 12th 2014. The Awards are open to Irish citizens and E.U. citizens who have been resident in Ireland for three or more years. For more information on eligibility and the application procedure please see www.fulbright.ie.