16.01.2015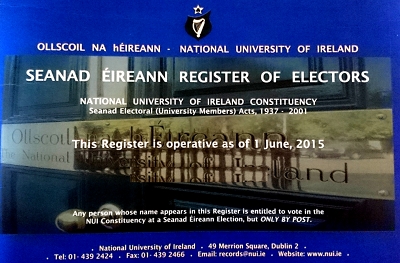 Graduates of the National University of Ireland who have received a degree (other than an honorary degree) who are Irish citizens are eligible to vote in Seanad Éireann elections, once they are included in the University electoral register.

While the deadline for registration to be included in the 2015 register (to be publlished on 1 June 2015), has passed, the registration process is continuous and graduates may apply for inclusion at any time - the form below may be used for this purpose and returned to NUI.
The deadline for inclusion in the revised register in any given year is 26 February.

Graduates who are already registered and who wish to inform NUI of any change of address may do so by email (records@nui.ie), by Fax (01- 439 24 77), by writing to: National University of Ireland, Records Office, 49 Merrion Square, Dublin 2 or by fully completing and returning the form below to, NUI. Changes can not be made over the telephone.


Download Registration Claim / Graduate Update Form


Irish Version: English Version:
Please download the pdf to your computer (right click and save) and complete the form using Adobe Reader as not all internet browsers support on screen completion of pdf documents

Cost of Purchasing a copy of the Seanad Éireann Register
By Order (S.I. No. 290 of 2000) of the then Minister of the Environment, Mr. Noel Dempsey, the following Regulation became effective from 21st September 2000:

The fee to be paid under paragraph (d) of Rule 15 of the First Schedule to the Act by an applicant for a copy of the revised [Seanad Éireann] register or any part thereof shall be fifty nine pence plus the sum of twelve pence for each one hundred by which the number of persons in the revised register or part thereof exceeds one hundred. (Note: 59 pence = 75 cent; 12 pence = 15 cent)

The current Register, operative from 1st June 2015, contains the names of 103,165 electors. Using the prescribed calculation*, the cost of the 2015 Register amounts to €155.00, either in hard or electronic copy.

*Number of 100's, or part thereof, by which 103,165 exceeds 100 = 1031.
1031 x .15 = €154.65
+ €0.75
= €155.40
Cost of Register = €155.00 (Rounding)

Anyone purchasing a copy of the register must undertake to comply with the relevant provisions of the Data Protection Acts of 1988 and 2003 a form is available for this purpose from the NUI office. The Seanad Register may be used only for electoral purposes.