27.10.2015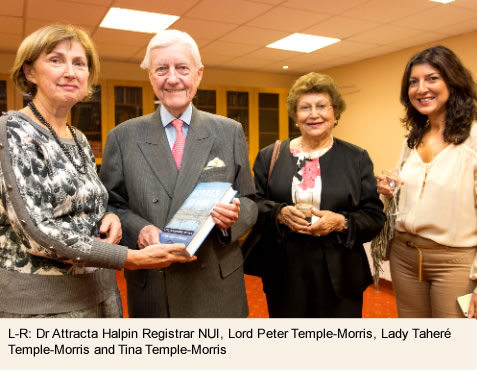 The National University of Ireland was delighted to host the recent launch of Across the Floor: A Life in Dissenting Politics, a memoir by Lord Peter Temple-Morris.
On Tuesday, 27 October 2015, Dr Maurice Manning, Chancellor of the National University of Ireland, and former Taoiseach Bertie Ahern were joined by guests and the author himself to celebrate the launch of this new political account.
In Across the Floor: A Life in Dissenting Politics (IB Tauris, £25), Lord Temple-Morris reflects upon his long and diverse political career. He examines British domestic politics in the latter half of the twentieth century and explores his own role in Irish politics, particularly regarding the peace process talks leading to the Good Friday Agreement of 1998.
Lord Temple-Morris was elected to the House of Commons of the United Kingdom as a Conservative Member of Parliament in 1974. In 1998, he moved 'across the floor' and joined the Labour benches. He was a Labour MP until 2001, and now sits in the House of Lords as a Labour peer.