07.09.2016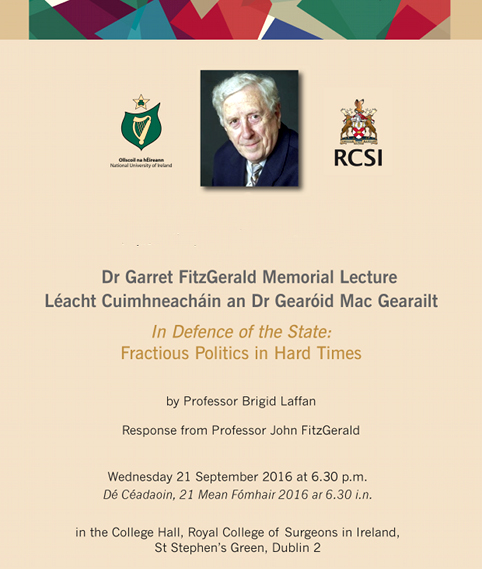 As a memorial to its former Chancellor, NUI established the Dr Garret FitzGerald Lectures which is an annual lecture series by distinguished speakers on topics of national or international importance. This years lecture,
In Defence of the State
: Fractious Politics in Hard Times by Professor Brigid Laffan, Director - Robert Schuman Centre for Advanced Studies, European University Institute, Florence, wll be held in the College Hall, Royal College of Surgeons in Ireland, St Stephen's Green on
Wednesday 21 September
2016 at 6:30pm.
The focus of Professor Laffan's lecture is on Irish government and politics, on the Irish state and its uneven capacities, one hundred years after the 1916 Rising. The essence of her argument rests on two pillars. First, she argues that the Irish state was not found wanting in hard times and that 'a relatively small cadre of politicians and public servants embedded in Ireland's institutions found the political and institutional capacity to address the countries' myriad problems, to bring Ireland back from the brink'. Second, she asks if we have learnt lessons from the 'bad times' and whether our political system has developed sufficient capacity to guard against the pathologies of the past.  
Response from Professor John FitzGerald, TCD, son of Dr Garret FitzGerald.  
Dr Garret FitzGerald was Chancellor of the National University of Ireland from 1997 – 2009. This is the fifth lecture in the series which is oganised by NUI.  
Guests are requested to be seated by 6.15 p.m.

To book your place at this free public lecture, please contact National University of Ireland at registrar@nui.ie