29.11.2016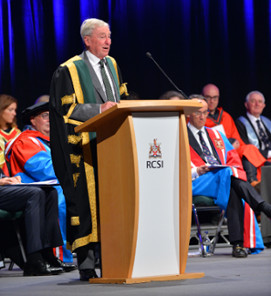 The Royal College of Surgeons in Ireland (RCSI) recently held conferring ceremonies on 15th and 17th November 2016 both at their own premises in St. Stephen's Green and at the Convention Centre Dublin where a total of 1,199 students were awarded bachelors, masters and doctoral degrees and other NUI qualifications.
Over the course of the two days, undergraduate students were conferred with honours bachelors degrees in Medicine, Nursing, Pharmacy and Physiotherapy; postgraduate students were conferred with a range of postgraduate diplomas, masters and doctoral degrees including higher degrees by research.
RCSI also conferred an Honorary Doctorate Award on Professor Áine Hyland, Emeritus Professor of Education and former Vice-President of University College Cork. Professor Hyland has been an adviser to the RCSI REACH Programme for a number of years and has also served as an external member on the RCSI Medicine and Health Sciences Board.
Speaking at each of the conferring ceremonies the NUI Chancellor, Dr Maurice Manning, congratulated the graduates on their success and achievements to date.
He commented that the four conferring ceremonies held in one week signalled "the continuing growth of RCSI and the increasing diversity and reputation of its programmes." At the conferring ceremony for nursing graduates, Dr Manning said that those in the profession of nursing "care for individuals from across the whole spectrum of humanity - at their most vulnerable, at their most anxious. To do so effectively requires a rare combination of intelligence, intuition, honesty, courage, perceptiveness, and compassion. I believe that truly is an art."
Of those conferred with postgraduate degrees, Dr Manning said that for NUI,
"as an institution committed to the advancement of learning and the expansion of knowledge, postgraduate study and research is particularly valued." He went on to note "the range of capabilities developed at postgraduate level: the increased difficulty and complexity of the material; the in depth interrogation and analysis of theoretical foundations; the coping with contradictory and conflicting signals; the sustained application required to bring problems to a satisfactory resolution. Life in contemporary society calls for these kinds of capabilities and it is pleasing to be able to acknowledge their development here in RCSI."
Speaking at the conferring of Professor Áine Hyland with an Honorary Doctorate, the Chancellor said that Professor Hyland has left her mark on RCSI, UCD and UCC, the various NUI institutions at which she has spent her professional life. He went on to say that Professor Hyland is an "original thinker with an international reputation, she has conducted a vast body of research and has published widely." He finished by commenting that her overall contribution to Irish education has been immense and that he was delighted to see her honoured by RCSI.
The Royal College of Surgeons in Ireland has been a recognised college of the National University of Ireland for almost forty years and is ranked in the top 250 institutions of education worldwide.