21.12.2017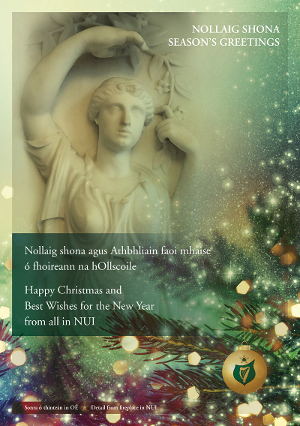 On behalf of the National University of Ireland, I extend my best wishes this Christmas to all the members of the University, to the students and staff of the constituent universities and recognised colleges and to all NUI graduates in Ireland and around the world. I hope that the past year has been a rewarding one for you professionally and personally and and I wish you success and fulfilment in the coming year.
The NUI constituent universities and recognised colleges continue to enjoy high international standing and recognition thanks to excellent teaching and research on campuses and also to the success of our graduates in their careers. I particularly commend the achievements of our new cohort of 2017 NUI Award recipients across the Humanities, the Sciences and the Social Sciences. As you make your mark academically you are following in the footsteps of eminent predecessors whose enduring contributions to scholarship and research continue to make us proud.
Wishing you all a very Happy Christmas and New Year.
Dr Maurice Manning
Chancellor
In ainm Ollscoil na hÉireann, guím mo bheannachtaí um Nollaig ar bhaill uile na hOllscoile, ar mhic léinn agus ar fhoirne na gcomhollscoileanna agus na gcoláistí aitheanta agus ar chéimithe uile OÉ in Éirinn agus ar fud fad na cruinne. Tá súil go raibh bliain an-tairbheach agaibh i mbliana go proifisiúnta agus go pearsanta agus guím oraibh go léir gach rath agus sásamh sa bhliain atá amach romhainn.
Tá ardmheas agus aitheantas idirnáisiúnta ar chomhollscoileanna agus coláistí aitheanta OÉ i gcónaí buíochas leis an teagasc agus taighde den chéad scoth ar na campais agus le rath ár gcéimithe ina gcuid slite beatha. Molaim ach go háirithe éachtaí faighteoirí Duaiseanna OÉ 2017 sna Daonnachtaí, san Eolaíocht agus sna hEolaíochtaí Sóisialta. Leis an tionchar acadúil a bhíonn agaibh tá sibh ag déanamh mar a rinne réamhtheachtaithe iomráiteacha romhaibh – scoláirí a gcuireann a gcuid iarrachtaí bród orainn fós.
Guím beannachtaí na Nollag oraibh agus Áthbhliain faoi mhaise daoibh go léir.
An Dr Muiris Ó Mainnín
Seansailéir