23.01.2017
'Women at Work: the Role of the ILO'
By Professor Mary Daly, President, Royal Irish Academy

Venue: The College Hall, Royal College of Surgeons in Ireland, St Stephen's Green, Dublin 2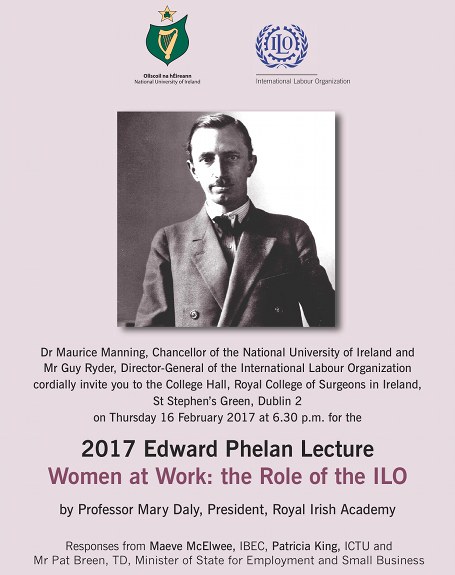 Date: Thursday 16 February 2017
Time: 6.30 p.m.



RSVP: The Registrar, National University of Ireland, 49 Merrion Square, Dublin 2
Tel. 01 439 2424 Email: registrar@nui.ie

Guests are requested to be seated by 6.15 p.m.

The National University of Ireland is delighted to collaborate with the International Labour Organisation in organising this the third Edward Phelan lecture.

Professor Mary Daly, President of the Royal Irish Academy, will deliver the 2017 lecture: 'Women at Work: the Role of the ILO', on Thursday 16 February at 6.30pm in College Hall, Royal College of Surgeons in Ireland.
Responses from Maeve McElwee, IBEC, Patricia King, ICTU and Mr Pat Breen, TD, Minister of State for Employment and Small Business.

This lecture series was established in 2013 by NUI and ILO to honour Edward J. Phelan. Born in Ireland, Edward Phelan had a distinguished career at the International Labour Organisation. He was official advocate of the ILO Project at the Paris Peace Conference of 1919, became its fourth Director in 1941 and Director General under its new constitution in 1946. He was the innovator of the ILO 'tripartite' formula which forms the basis of representation at International Labour Conferences. Each country's delegation includes not only Government delegates, but also representatives of workers' and employers' organizations, a model for social partnership.