28.11.2019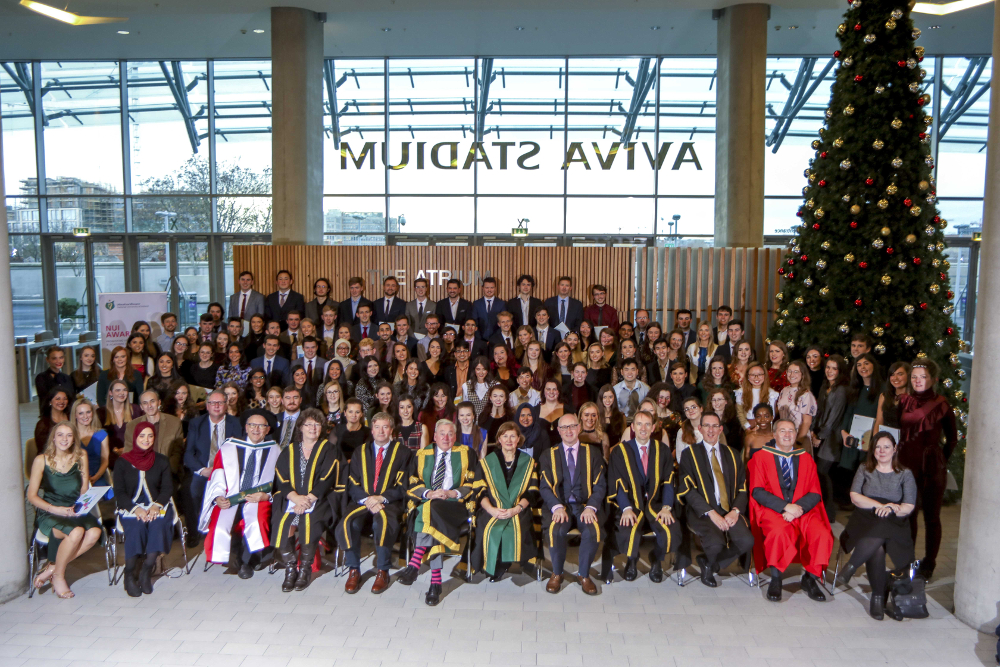 2019 NUI Awards recipients at the Annual NUI Awards Ceremony in the Aviva Stadium, Dublin
NUI Awards Ceremony 2019
Aviva Stadium, Dublin
Tuesday 26 November 2019
The National University of Ireland was delighted to host its Annual Awards Ceremony in the Aviva Stadium in Dublin on Tuesday 26 November 2019. This is an important event in the University calendar which provides an opportunity for the public acknowledgement and celebration of excellence in scholarship.  At the ceremony, the Chancellor of the University, Dr Maurice Manning, presented awards, valued in excess of €1 million, to 136 NUI students, graduates and faculty staff across the universities and colleges of the NUI federation.
In addition to the presentation of the 2019 NUI awards, the University was also delighted to confer the Degree of Doctor of Education honoris causa on Brian Mooney. In his roles as a school Guidance Counsellor, a Fellow of the Institute of Guidance Counsellors, a writer on Education with the Irish Times, and Managing Editor of Ireland's Yearbook of Education, Brian has for many years been the face of guidance counselling in Ireland. The honorary degree  awarded to him is the highest award of the University to acknowledge the exceptional contribution he has made to higher education. It was particularly appropriate for the University to be able to honour him as part of NUI's major event for students, graduates and families.
NUI federation - members
These awards are competed for annually by students and graduates of NUI constituent universities, UCD, UCC, NUI Galway and Maynooth University and other NUI member institutions including RCSI, NCAD and St. Angela's College, Sligo. Students from the NUI overseas institutions, namely RCSI & UCD Malaysia Campus (RUMC, formerly known as Penang Medical College, Malaysia); Royal College of Surgeons in Ireland – Medical University Bahrain and Perdana University, Malaysia were also considered for the NUI Awards and were represented among the 2019 award winners.
Some of our 2019 NUI Award Recipients
(click recipient to expand)

NUI Dr Peter Sutherland Travelling Studentship in European Studies

Niamh Keady-Tabbal

Niamh Keady-Tabbal is a first-year PhD candidate in Law at the Irish Centre for Human Rights, NUI Galway. She holds an LLM in International Human Rights Law (NUI Galway) and a BA in Near and Middle Eastern Studies with French (Trinity College, Dublin).

Her research focuses on refugee status determination procedures and the relationship between border securitisation and access to international protection in Greece and Lebanon. As a recipient of the Dr. Peter Sutherland Travelling Studentship, Niamh will have the opportunity to conduct field-work in both jurisdictions and carry out research visits at the Oxford Refugee Studies Centre and the American University of Beirut.

Irish Historical Research Prize

Professor Guy Beiner

Professor Guy Beiner was awarded the Irish Historical Research Prize 2019 for Forgetful Remembrance: Social Forgetting and Vernacular Historiography of a Rebellion in Ulster (Oxford University Press).

The book has already received the AHA 2019 George L. Mosse Prize and the 2019 Katharine Briggs Award.

Commenting on the publication, the NUI Selection Panel chaired by the Chancellor Dr Maurice Manning  commented as follows:


"Erudite and original, this book makes very effective use of folklore material,
oral histories and popular music. A huge achievement and a remarkable tour
de force, it fulfils a dual ambition of being both an experimental local study and new
model for the study of memory. It will undoubtedly stimulate many theses, articles and books and will be read for many years to come."

Dr Maurice Manning
Chancellor of NUI

Professor Beiner is professor of modern history at Ben-Gurion University of the Negev in Israel and is the Burns Scholar for 2019-2020 at Boston College. He has a PhD in modern Irish History from the National University of Ireland and was an Irish Research Council scholar at University College Dublin.

He has also held fellowships at Trinity College Dublin, the University of Notre Dame, Central European University and the University of Oxford. Guy's research mainly focusses on remembering and forgetting in the late-modern era.

NUI Post-Doctoral Fellowship in the Sciences

Dr Catriona M. Collins

Dr Caitríona M. Collins completed a BSc in Pharmacology at NUI Galway, an MRes in Cancer Biology at the University of Dundee, Scotland, and a PhD at the Centre for Chromosome Biology in NUI Galway. During her NUI Post-Doctoral Fellowship, she will investigate sperm function and male fertility in mammals. Working between laboratories at the Centre for Chromosome Biology in NUI Galway and at the School of Agriculture and Food Science in UCD, Caitríona's research will have a strong interdisciplinary nature.

She will combine biochemistry and molecular biology with bovine in vitro fertilisation studies and cell biology in order to explore how sperm chromosomes and DNA play an active role in early embryo development, and how these complex mechanisms contribute to male fertility.

Publication Prize in Irish History

Dr Ruth Canning

A historian of early modern Ireland and Anglo-Irish relations, Dr Ruth Canning has held a number of research fellowships and grants, including a three-year Marie Curie International Outgoing Research Fellowship, a Moore Institute Visiting Fellowship and a Marie Curie Alumni Micro Media Grant. She joined the Department of History at Liverpool Hope University in 2017 and is now a Senior Lecturer. Ruth has published widely on Ireland, the Old English, military identities, conflicting loyalties, and the economic implications of war during the late Elizabethan period. Her work

The Old English in Early Modern Ireland: The Palesmen and the Nine Years' War, 1594-1603 was (Boydell and Brewer, 2019) examines the socio-political impact of war on identity formation amongst Ireland's minority Old English population.

Dr Michael Dwyer

Dr Michael Dwyer is a historian interested in the social history of medicine and health in 19th and 20th century Ireland. He completed his MA in History and Religion & Global Diversity and a PhD on the history of childhood vaccination in Ireland at University College, Cork. He is lead historical researcher on the Commission of Investigation Mother & Baby Homes.

His current research interests include single motherhood and the institutional care of single expectant women in 20th century Ireland, and the use of institutional children as clinical and anatomical subjects in Ireland. His work Strangling Angel: Diphtheria and Childhood Immunisation in Ireland was published in 2018 by Liverpool University Press.

Dr Ciarán McCabe

Dr Ciarán McCabe is a historian of poverty and welfare in Ireland and Britain 1750-1950, and is currently an Irish Research Council (IRC) post-doctoral fellow at the School of History UCD. He completed an IRC-funded PhD at Maynooth University and held an IRC post-doctoral fellowship at NUI Galway, where he completed his monograph Begging, Charity and Religion in Pre-Famine Ireland (Liverpool University Press, 2018).

This book examines perceptions of and responses to begging and alms-giving in early-nineteenth-century Ireland. A former journalist and court reporter, Ciarán has published and lectured widely on many aspects of Irish social, ecclesiastical and women's history.

Fulbright Scholar Award

Dr John Greaney

Dr John Greaney is a graduate of UCD and Maynooth University. His research interests include modernist literature, critical theory and continental philosophy. His work has been featured in Irish Studies Review and Textual Practice, and he is co-editing Irish Modernisms: Gaps, Conjectures Possibilities.

As a Fulbright-NUI Scholar at the University of Pennsylvania, he will finish his first monograph – The Distance of Irish Modernism – which investigates the paradox through which the Irish modernist novel becomes both a container for national history and a mode of world literature. Dr Greaney will work under the mentorship of leaders in the field, and will consult archives in Philadelphia and Boston which will lend unique context to his work.

NUI Travelling Studentships in the Humanities and Social Sciences

Olufisayo Akinlude

Olufisayo Akinlude holds a BBL in Business and Law and an MA in History from UCD. Through her doctorate studies in legal history, she will analyse the legal frameworks that facilitated or hindered movement for Black travellers in the eighteenth and nineteenth- century British empire. Her objective is to determine Black participation in imperial civic identities and socio-political membership.

She will spend time in the Max Planck Institute for European Legal History in Frankfurt, National Archives in Kew, SOAS University of London and the University of Birmingham for their archival resources and specialist expertise. She hopes to rediscover in the archive the obscured and forgotten histories of the subaltern in empire and retell their stories in a transatlantic context.

María Luján Madina

María Luján Medina graduated with an MA in Spanish and Latin American Studies from Maynooth University, where she is currently completing her PhD in Spanish. Her research examines twentieth century Irish diasporic narratives in Buenos Aires, in order to evaluate the uses of cultural markers and their contributions towards the creation of an imagery that can challenge hegemonic perceptions of Argentine literature.

To this end, Maria has selected three collections of short stories written by Irish and Irish-Argentine writers William Bulfin, Rodolfo Walsh and Juan José Delaney. With the support of her Travelling Studentship, Maria will conduct archival research in Argentina, visiting a number of libraries and archives in Buenos Aires and its neighbouring provinces.

Maria Cullen

Maria Cullen holds a BA in History and French and an MA in International Relations. Her research into the history of humanitarianism aims to evaluate the influence of national political culture on the interpretation of ethical humanitarian action in crises in Cambodia, Ethiopia and El Salvador.

These cases offer a diverse geopolitical spectrum within which to study the effect of conflict, authoritarianism and contested borders on the parameters for the delivery of aid. This project will add nuance to discussions around issues of sovereignty and humanitarian access by historicising the decision-making processes of Oxfam and Médecins Sans Frontières.

Rory Corbett

Rory Corbett graduated with a BA with Irish Studies from NUI Galway, and recently graduated with an MA in Ethnomusicology from UCC, where he is currently working on his PhD in the Department of Music. Rory's research is primarily concerned with the cultural symbiosis between Irish and blackface minstrel music in the nineteenth-century and the role Irish Americans played in popularising the banjo.

As part of his travelling studentship Rory will be undertaking archival research in the USA and UK, including at the New York Public Library, the New York Historical Society, the Harry Ransom Centre in the University of Texas, and the British Library in London, amongst others.

NUI Travelling Studentships in the Sciences

Daniel Collins

Daniel Collins is a graduate of UCC with a BSc in Biochemistry. Danny will undertake his Travelling Studentship at the Signalling Department at the Babraham Institute, a world-leading centre of research into the biological processes that occur in each living cell.

Based in a lab that focuses their research on the Phosphoinositide 3-Kinase pathway, a specific cellular signalling pathway which interacts with various lipids and enzymes, his PhD research will be in the field of cell signalling and lipidomics. He will be examining the biological significance of the fatty acyl chain composition of phosphoinositides which are key lipid molecules critical to cell signalling events.

Cormac Costello

Cormac Costello, a graduate of UCD, is undertaking a PhD in inorganic chemistry. His research is focused on developing next- generation magnetic metal-organic framework (MOF) nanocomposite suspensions.

Combining the magnetothermal heating properties of magnetic nanoparticles with the ultra-high porosity of MOFs, these materials are promising candidates for application in biomedicine as drug nanocarriers, as well as for industrial application as substrates for stimulus-responsive gas concentration and release. Cormac will be travelling to the University of Southampton in 2021 to work with alongside the functional materials group, who are world leaders in nanoscaled MOFs and MOFs at the biointerface.

Niamh O'Mahoney

Niamh O'Mahoney studied Chemistry with Forensic Science in UCC before beginning her PhD in Analytical Chemistry. Her research focuses on Broadband Acoustic Resonance Dissolution Spectroscopy (BARDS), which is based on a new acoustic phenomenon observed when you add a compound to a solvent.

This is a technique developed in UCC, and UCC is currently the only university offering the opportunity to study this new field of research at a post-graduate level. Niamh's project is interdisciplinary in nature and bridges the area of analytical chemistry with pharmaceutical chemistry. Her research focuses on linking formulation characteristics with the dissolution profile obtained from the BARDS spectrometer. Niamh has also been awarded the NUI Denis Phelan Scholarship
Further information is avalible on the NUI Awards Page.
Please see 2019 NUI Awards recipients for a full list of 2019 Award winners.
Further information from:
« Previous