08.10.2019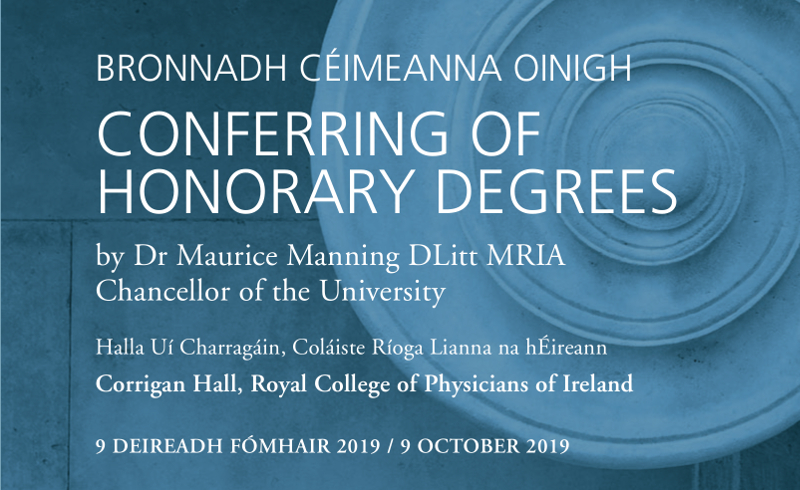 Click image to enlarge
NUI Honorary Conferring 2019
Wednesday 9th October 2019
Royal College of Physicians in Ireland
Kildare Street Dublin 2
This year's National University of Ireland honorary degree conferring ceremony took place on Wednesday 9 October 2019 in the Royal College of Physicians of Ireland, Kildare Street, Dublin 2 at 4.30 pm.
At the ceremony, the Chancellor of the University, Dr Maurice Manning, conferred honorary degrees on the following individuals who have made exceptional contributions in their respective fields:
Describing Ann Cleare as 'one of the most innovative, imaginative and self-effacing artists of sound, at work in the world today', Professor Harry White said that 'the constituency of interest surrounding her work is truly an international one, and it comprehends not only an impressive litany of prestigious commissions from music festivals, professional ensembles and broadcasters throughout Europe, but also from India, Australia and North America'. He continued 'we honour her here today because her music so compellingly and so courageously asks us to hear the world anew'.
As Ambassador to the United Nations, David Donoghue co-chaired the negotiations which culminated in the adoption in 2015 of the UN 2030 Agenda for Sustainable Development and the Sustainable Development Goals. Introducing him, Professor John O'Halloran, Deputy President and Registrar of UCC, said that 'the Sustainable Development Goals provide the main roadmap for global action to address the major global challenges of poverty, climate change, food insecurity, conflict, equality, health and other fundamental societal issues'.  He commended David Donoghue's 'exceptional negotiation and facilitation skills' in  reaching such an agreement, signed by 193 countries.
Ms Justice Mary Laffoy is President of the Law Reform Commission and Chair of the Citizens' assembly. Introducing her for the honorary degree, Professor Imelda Maher of UCD said that 'the influence of the Citizens' Assembly which she has so ably chaired can be seen in the repeal of the eighth amendment, and it has also reported on how to respond to our ageing population, how we conduct referendums, fixed term parliaments and climate change. . Ms Justice Laffoy through her many public roles in law and in politics has consistently advanced the law through public service with imagination, intelligence and generosity'.
Describing the poet and Oxford academic Bernard O'Donoghue as 'an inspirationally humane and discerning presence in the world of Irish letters, Dr Caitriona Clutterbuck of UCD said that his work 'is concerned with the values of human interdependence, justice, faith and love' affirming 'the universality of human claims to compassion'. His internationally-acclaimed poetry she said 'builds unbounded moral vision upon an accessible base of local, immediate reference. It is essential reading for anyone interested in the wider challenge of revival in this country'. 
One of Ireland's leading artists, Abigail O'Brien was elected President of the Royal Hibernian Academy, the first woman in the history of the Academy to hold that position. Introducing  her, Professor Sarah Glennie, Director of NCAD said that  'her work as an artist who has brought into the spotlight the female lived experience - an experience historically denigrated as linked to the domestic, and as such an unworthy subject for the lofty realms of art – lead us today to recognise Abigail O'Brien as both an artist of significant importance – but also as a powerful driver of the change'. 
Video from the Honorary Conferring Ceremony
Images from the Honorary Conferring Ceremony
Further information from:
Dr Attracta Halpin
Registrar
National University of Ireland
49 Merrion Square
Dublin 2, D02 V583
Ph: 01 4392424
www.nui.ie
Twitter: @NUIMerrionSq
« Previous