29.08.2019
Formation of NUI Society of
Economic Geologists Student Chapter
The National University of Ireland (NUI) is pleased to announce the formation of the Society of Economic Geologists (SEG) Student Branch across NUI Member Institutions.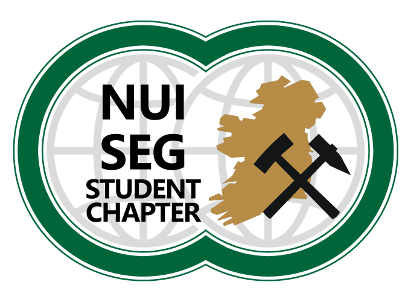 The official launch of the NUI SEG Student Chapter will take place at UCD School of Earth Sciences on Thursday the 10th of October 2019, accompanied by an evening lecture by Professor Murray Hitzman, Director of the Irish Centre for Research in Applied Geosciences (iCRAG) and former SEG President.
The Society of Economic Geologists (SEG) is an international organisation with the objective to advance the part of geology related to mineral deposits, mineral resources, mineral exploration, mining and metallurgy. Membership of the society consists of over 7000 individuals from academia, industry and government bodies.
A major goal of the NUI SEG Student Chapter is to connect students across NUI Member Institutions with the professional geological community of Ireland and beyond to provide networking opportunities and support the professional development of early career geoscientist. Events organised by the chapter will include lectures, short courses and field trips.
The chapter emerged from the University College Cork SEG Student Chapter, which was established in 2015.
For its first year, the NUI SEG Student Chapter will be headquartered at the School of Earth Sciences, University College Dublin, and will be managed by David Kaeter (President), Helen Twigg (Secretary) and Aileen Doran (Treasurer).
Membership is open to students of Geology, Geography, Geophysics and other Earth Sciences from NUI Member Institutions, who are interested in the profession of Economic Geology.
For more information on the launch and the chapter please email nui.seg@gmail.com
You can also connect to the NUI SEG Student Chapter via
Twitter: @NUI_SEG
Facebook: @SEGstudentsIreland

Tweet
« Previous