11.11.2020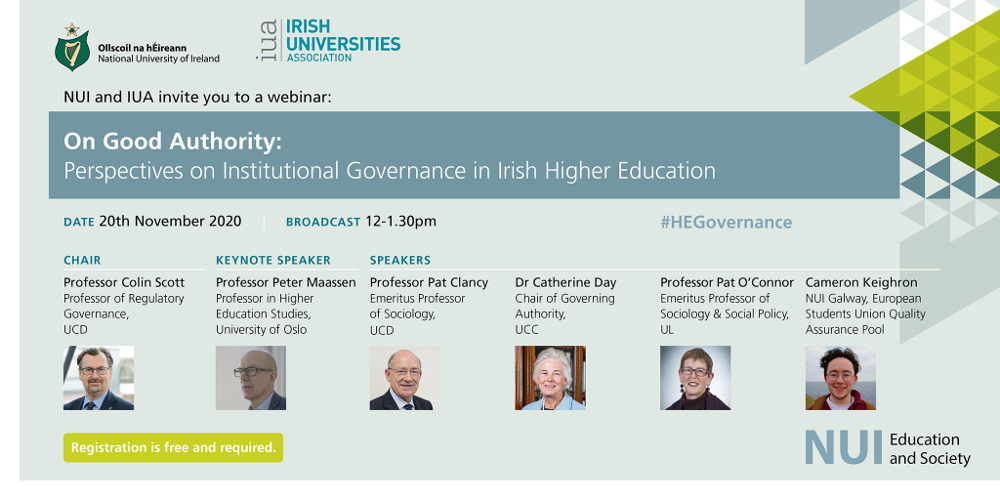 Please click to zoom image
On Good Authority: Perspectives on Institutional
Governance in Irish Higher Education
Please join us for a webinar we have organised in collaboration with the Irish Universities Association (IUA) from 12-1.30pm on Friday, 20 November, on governance in higher education.
The event will be opened by NUI Chancellor, Dr Maurice Manning with a brief address from Minister for Further and Higher Education, Research, Innovation and Science, Simon Harris, TD. Our webinar chair, Prof Colin Scott (University College Dublin) will introduce our keynote, Prof Peter Maassen (University of Oslo), who will give a global perspective on governance in higher education. In response, Prof Pat Clancy (UCD) will provide the Irish context.
In a panel on governing the Irish university, we will hear a governor's view from Dr Catherine Day (Chair, University College Cork Governing Authority), an academic's view from Prof Pat O'Connor (University of Limerick) and a student's view from Cameron Keighron (European Students' Union Quality Assurance Expert Pool, former member of NUI Galway's Údarás na hOllscoile/Governing Authority).
Click here to register for the event.
Further information on joining the webinar will be emailed to you after registration.
For more information please see the programme below.
Tweet
« Previous