21.10.2021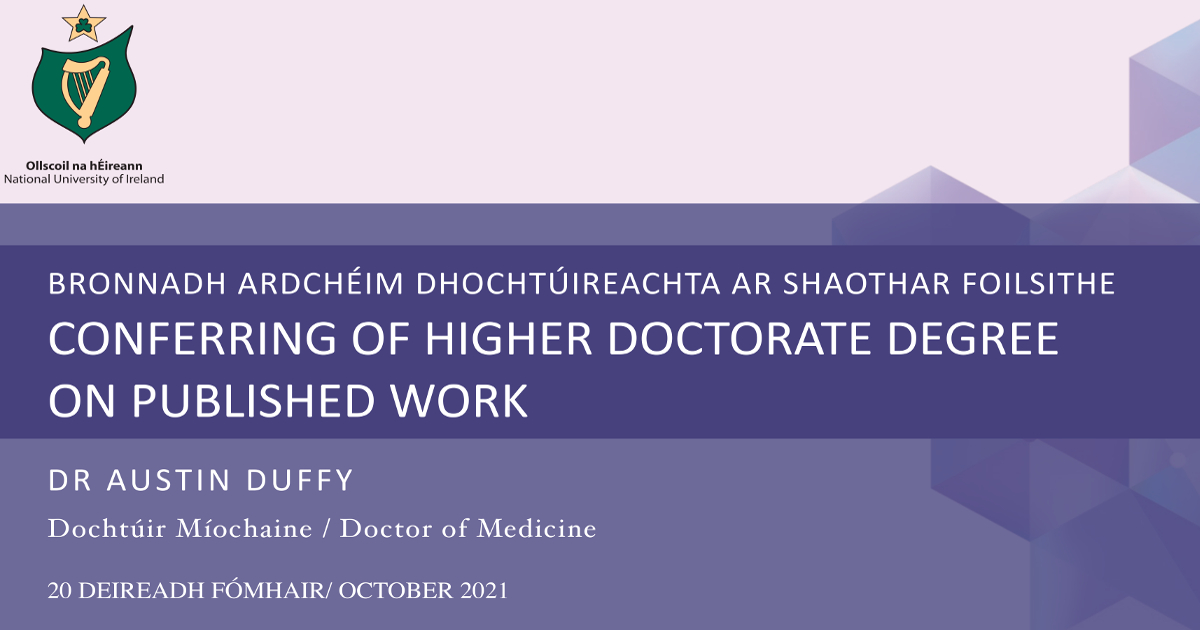 Click image to enlarge
NUI Confers Doctor of Medicine (DMed) on Dr Austin Duffy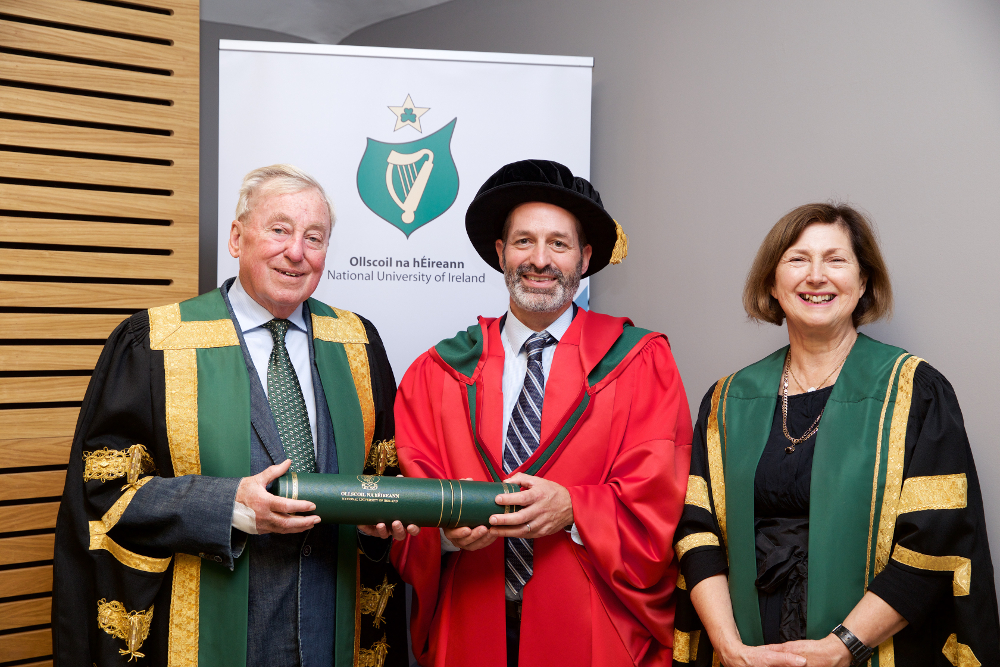 Click image to enlarge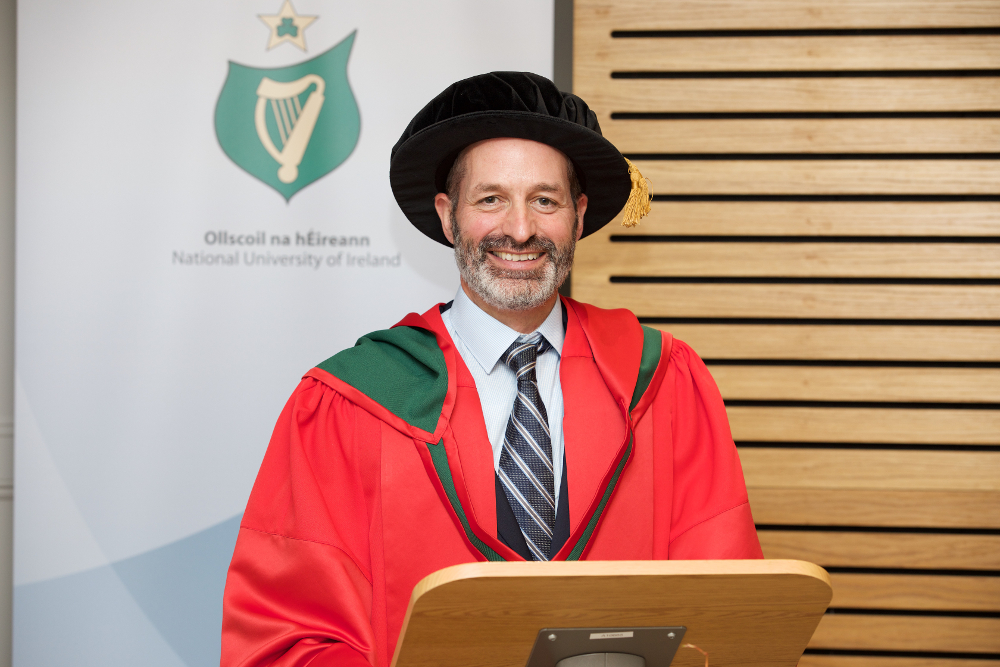 Click image to enlarge
On Wednesday, 20 October 2021, the National University of Ireland held a conferring ceremony in 49 Merrion Square. The Chancellor, Dr Maurice Manning, conferred the higher doctorate degree, Doctor of Medicine (DMed), on Dr Austin Duffy in recognition of his internationally recognised work in the field of immunotherapy for liver cancer.
The higher doctorate is the highest degree of the University awarded to scholars of international distinction in their fields. The Registrar, Dr Attracta Halpin, noted that this is a rare award, with only five awarded across all disciplines in 2021. Of these, Dr Duffy's is the second DMed.
The Chancellor highlighted the high level of scrutiny involved in assessing higher doctorates on the basis of published work. One of the two international assessors of Dr Duffy's application commented:
'I believe that Professor Duffy has advanced the applicability of immunotherapy as a solid treatment for primary liver cancer' while the second assessor said 'All together Professor Duffy's published work does not only merit a higher doctoral degree of the National University of Ireland but by far exceeds the requirements for this degree. Professor Duffy's work demonstrates an exceptional level of commitment, persistence on a highly complicated and clinically challenging topic, as well as deep insight into molecular mechanisms and great experience in the clinical management and treatment of this important and fatal disease.'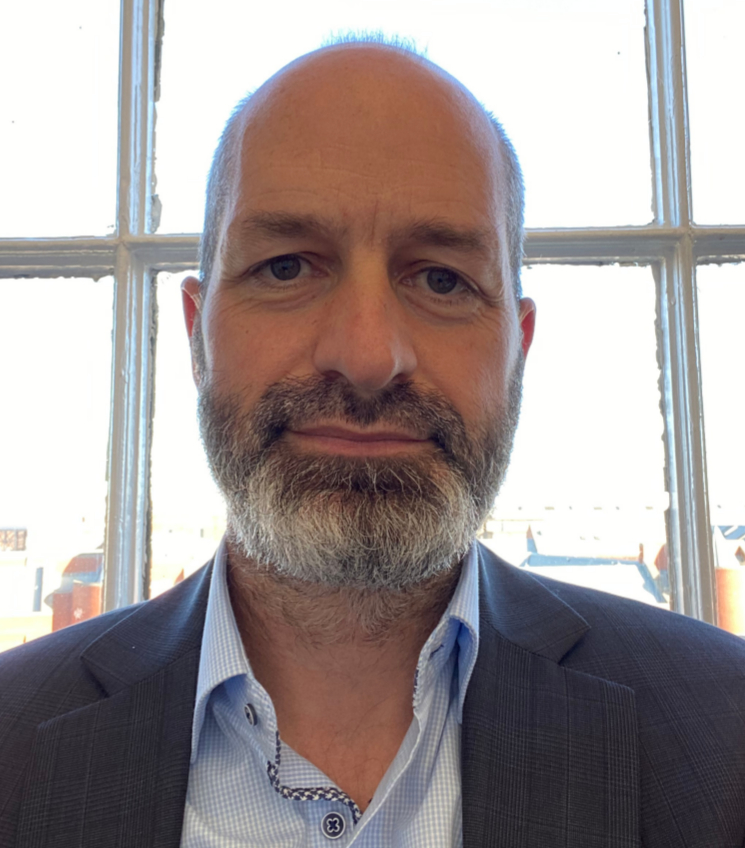 Dr Austin Duffy
Austin Duffy studied medicine at Trinity College, Dublin, graduating in June 1998, and became a member of the Royal College of Physicians of Ireland in 2001. Between 2002 and 2006, he completed specialist registrar training in medical oncology before moving to Memorial Sloan Kettering Cancer Center (MSKCC) in New York where he completed a subspecialty fellowship in Gastrointestinal Oncology. In 2008, Dr Duffy joined the National Cancer Institute (NCI) in Washington DC where he started a translational program in gastrointestinal cancers with a focus on tumour immunology.
Between 2008 and 2017, Dr Duffy developed and led over 25 early-phase clinical trials including the first-in-human combination of immune checkpoint inhibition with loco-regional treatment for hepatocellular carcinoma. In 2016, he was awarded a National Cancer Institute Director's Award for Innovation in cancer research before returning to Ireland as a consultant medical oncologist at the Mater Hospital.
Dr Duffy is Associate Professor of Translational Oncology at UCD and the Mater and Chair of the GI DSSG with Cancer Trials Ireland. He is also a member of both the NCI Global Expert Committee on Hepatobiliary Malignancies and the Society of Immunotherapy for Cancer (SITC) expert panel on Liver Cancer. Dr Duffy's research interests are in immune-based approaches for liver cancer and improving access to novel early-phase experimental options for Irish patients with advanced cancer.
Higher Doctorate Degrees on Published Work

The National University of Ireland's Higher Doctorates on Published Work are the highest qualifications awarded by the University. They are awarded to scholars who have published a substantial body of ground-breaking and influential work in a field of specialisation, and who have achieved outstanding distinction internationally in that field. The work published usually consists of articles in leading international peer-reviewed scholarly journals and/or books published by leading academic publishers which are distributed internationally. NUI awards Degrees on Published Work in Celtic Studies, Medicine, Economic Science, Engineering, Literature, Music, Law, and Science.
Further information on higher doctorate degrees is available here.
Further information from:
Dr Attracta Halpin
Registrar
National University of Ireland
49 Merrion Square
Dublin 2, D02 V583
Ph: 01 4392424
www.nui.ie
Twitter: @NUIMerrionSq
« Previous