08.03.2022
In celebration of International Women's Day NUI highlights the contributions of some of their exceptional female scientific graduates
Prof. Carmel Humphries (1909 – 1986)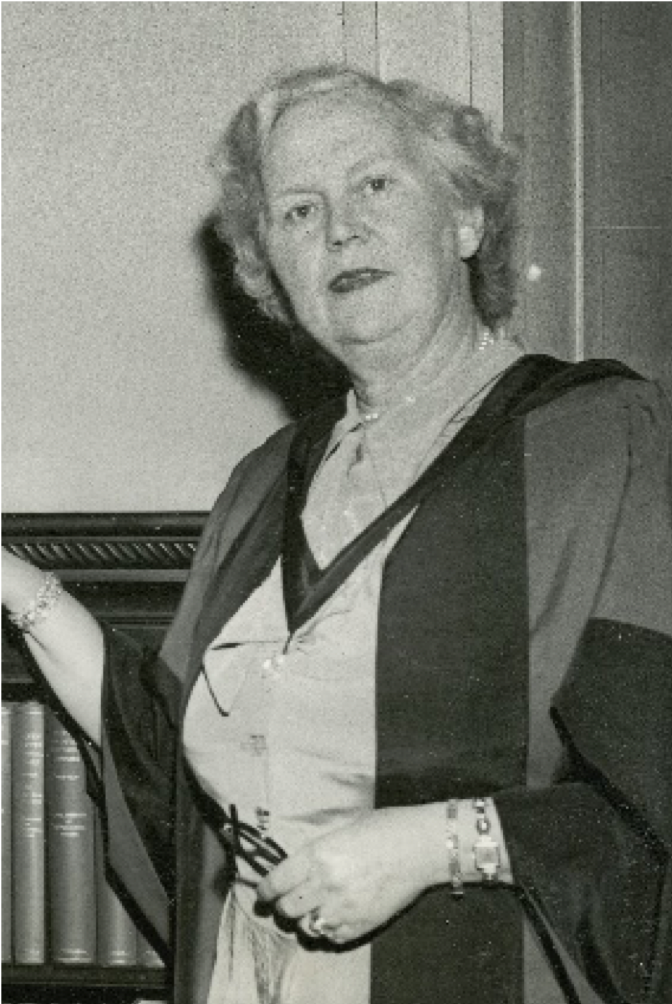 Prof. Carmel Humphries (Photo UCD archive)
The first female professor of zoology in Ireland, Carmel Humphries was an Irish zoologist who specialised in the identification and classification of chironomid flies. Born in Waterford, Carmel was educated at the Ursuline convent in Waterford and the at Loreto College in Dublin. In 1929, she enrolled at University College Dublin to study science, where she won a number of scholarships as an undergraduate. She graduated in 1932 with a B.Sc. with honours in botany and zoology. In 1933, Carmel undertook postgraduate studies in zoology and education and was awarded the M.Sc. and H.Dip.Ed, as well as winning the NUI travelling studentship in zoology.
Carmel moved to Windermere in England to study limnology under Winifred Frost, T. T. Macan and H. P. Moon at their Freshwater biological station. Her work explored the fauna of Cumbria lake, and the taxonomy of non-biting midges. She published some of her findings in the Journal of Animal Ecology in 1936. Carmel attached herself to August Thienemann, a co-founder of the International Society of Limnology, which enabled her to study the community composition and emergence periods of the Chironomidae of the Großer Plöner See, the largest lake in Schleswig-Holstein, Germany. Her findings were published and Carmel was rewarded a PhD from the National University of Ireland when she returned in 1938.
Carmel worked at numerous academic institutions, including as an assistant in zoology at NUI Galway until 1939, as a senior demonstrator in zoology at University College Dublin from 1939 to 1941 and an assistant at Queen's University Belfast from 1941 to 1942. In 1942 she was appointed permanently as an assistant in the zoology department at University College Dublin, where she remained for the rest of her career. Carmel was made a statutory lecturer in zoology in 1947 and succeeded James Bayley Butler as head of department in 1957, making her the first female professor of zoology and head of department in Ireland.
Source https://www.connollycove.com/
Jane Stephens (1879 – 1959)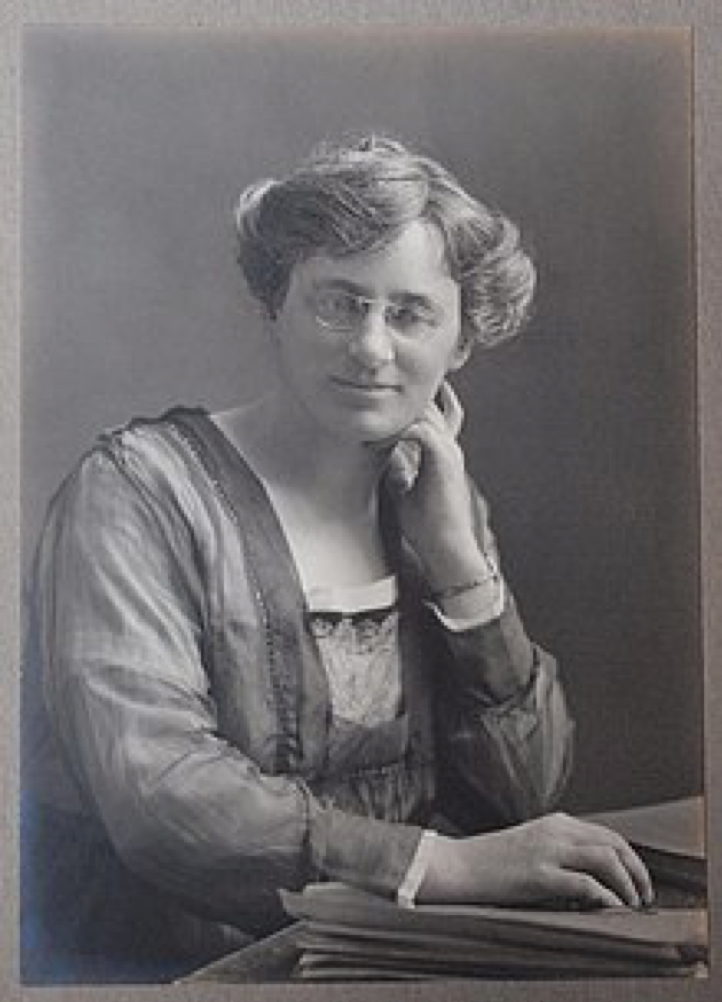 Jane Stephens (Wikipedia)
Jane Stephens was an Irish zoologist who pioneered the scientific study of sponges – small sea creatures – in Ireland. Jane was the sixth child of a Quaker couple. She attended Alexandra College, an all-girls boarding and day school in Dublin, where she shone in her academic studies and engaged in tennis and hockey. She went on to study geology and biology at Royal University of Ireland in 1903, becoming the first woman to be granted a degree by this institution.
Jane began her career as a Technical Assistant for the Natural History Division of the National Museum of Ireland in 1905. She later became an Assistant Naturalist. It was here that Jane developed her passion for the study of sponges and cnidaria, an animal classification which includes jellyfish, coral, and sea anemone. She studied the specimens the Natural History Division of the Natural Museum of Ireland had in their collection and published detailed monographs of her findings.
Jane was influential in the Scottish National Antarctic Expedition (1902 – 1904); the expedition returned with numerous unknown specimens of sea creatures and Jane identified 34 of them herself. In 1909, Jane participated in the Clare Island Survey, a zoological, botanical, archaeological, and geological survey of Clare Island an island off the West coast of Ireland; she surveyed the fresh and marine sponges, alongside previously unknown marine invertebrates.
Jane married Robert Francis Scharff, the then acting Director of the National Museum of Ireland and Keeper of the Natural History Division, in 1910. This meant she had to resign her post at the museum, due to the Marriage bar. After her marriage, Jane did not do any more research or writing.
Source https://www.connollycove.com/
Prof. Eva Philbin (4 January 1914 – 24 June 2005)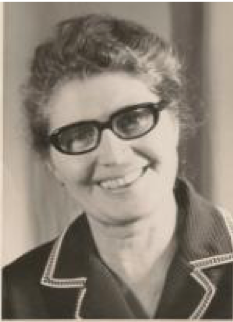 Prof. Eva Philbin (UCD Chemistry website)
Eva Philbin was an Irish chemist who became the first woman president of the Institute of Chemistry of Ireland. Philbin received her B.Sc with first class honors and M.Sc from University College Galway. While at University College Galway she worked under Tom Dillon where they worked on identifying carbohydrates in seaweed. She began her career in 1939 as an industrial chemist and was chief chemist at Hygeia Ltd in Galway during World War II. At Hygeia she was responsible for developing alternative sources for chemicals that were unavailable due to the war.
In 1945, Philbin joined the staff at University College, Dublin. She was a driver of the development of natural product chemistry in Ireland. In 1958, Philbin was awarded a higher doctorate (D .Sc) from the National University of Ireland for her published work on flavonoids. Philbin became organic chemistry professor in 1962 and in 1963, took over as head of the chemistry department at UCD.
Over her long career, Philbin became a fellow of the Royal Society of Chemistry and a member of the Council of the Royal Irish Academy and the Natural Science Council. Philbin became the first woman to chair the National Science Council, was the first female senior vice-president of the Royal Irish Academy, and was the first woman president of the Institute of Chemistry in 1966. Since 2007, the Institute of Chemistry of Ireland Annual Award for Chemistry lectures series has been named in her honor as the Eva Philbin Public Lecture Series.
Iris Ashley Cummins (1894–1968)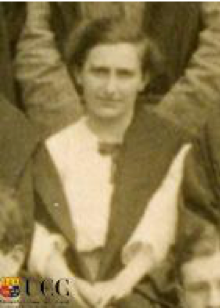 Iris Ashley Cummins (1894–1968) (UCC archives via UCC Website)
Iris Cummins was the first female engineer to graduate University College Cork (UCC) and was also an international hockey player. Cummins began to study in UCC in 1912. At that time there were 78 women students out of the 420 students enrolled. She graduated with an engineering degree in 1915. While she was in college, Cummins was on the Ireland hockey team. She earned her first 'cap' for hockey in 1914 and lead the college hockey team to victory in the Munster cup. The Irish hockey team toured the US in 1925 with Cummins as the captain.
Cummins worked for the Royal Arsenal with the munitions factory at Woolwich, London and then the Vickers factory at nearby Erith as well as in a shipyard in Scotland during the First World War between 1915 and 1916 before returning to Cork. In 1924 she founded a private practice in the city and worked there until 1927 at which time she was appointed to the Irish Land Commission in Dublin. She moved to Dublin and although she visited, she never returned to live in Cork. She retired from the Land Commission in 1954.
In 1927 Cummins became the first woman member of the Institution of Civil Engineers of Ireland. She was a Council member of the Women's Engineering Society having joined at the organisation's inception. In 2022 UCC named the Engineering building on campus in her honour.
Prof. Linda E. Doyle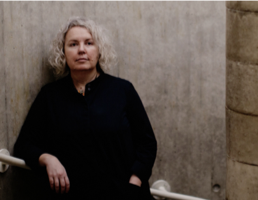 Prof. Linda E. Doyle (Photo University times website)
Linda E. Doyle is the 45th provost and president of Trinity College Dublin (TCD) the first female provost since the founding of the college by Elizabeth I in 1592.
Doyle is a native of Cork. She completed her undergraduate degree in electrical engineering in University College Cork, graduating with a B.E.E. in 1989. She moved to Trinity College Dublin (TCD) in 1989, and there completed a M.Sc. in 1993 and a Ph.D. in 1997 and later also a postgraduate diploma in Statistics. Doyle worked in industry for a year, including for Siemens in Germany. In the mid-2010s, she was appointed the first head of a Science Foundation Ireland (SFI)-supported national research centre focused on telecommunications in the future. Doyle personally led the Edge project, funded by SFI under the EU Horizon 2020 programme, with a budget of 6 million euro and 71 researchers, conducting work on digital content technology, telecoms networks and advanced materials. In 2014, she was appointed professor of Engineering and the Arts at the School of Computer Science and Statistics at Trinity. By 2017, she was credited with having won career total awards of more than 70 million euro in research funding for her projects and teams, and supervising 26 Ph.D. candidates, half in Engineering, half in Arts.
Dr. Sheila Christina Tinney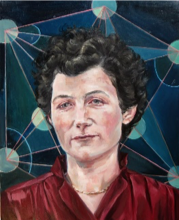 painted by Vera Klute, for the Royal Irish Academy's Women on Walls campaign
Sheila Tinney (née Power, 15 January 1918 – 27 March 2010) was an Irish mathematical physicist. She is believed to be the first Irish-born and -raised woman to receive a doctorate in the mathematical sciences.
Sheila Christina Power was born in Galway city to Michael Power [a.k.a. Mícheál de Paor, originally from rural Kilkenny, Chair of Mathematics at University College Galway (UCG) from 1912 to 1955] and Christina Cunniffe (who died in childbirth when Sheila was 12).
She was educated by the Dominican nuns, both in Galway and in Dublin, and was awarded Honours in Mathematics in the Leaving Certificate Examination (the nation's secondary school exit exam), one of only 8 girls to do so in the whole country. After one year attending UCG, she switched to University College Dublin (UCD), from which she graduated with a BSc in 1938, with First Class Honours in Mathematics, and ranked at the top of her class. She did her Master's at UCD in 1939, and was subsequently awarded a National University of Ireland travelling studentship, which enabled her to undertake research at the University of Edinburgh in Scotland. Two years later, in 1941, she earned her doctorate under the supervision of the celebrated physicist Max Born on the stability of crystal lattices.
Returning to Dublin, she became an assistant lecturer at University College Dublin, and was also one of the first three scholars appointed to the brand new Dublin Institute for Advanced Studies (DIAS), in October 1941. While at the DIAS she worked with Paul Dirac, Arthur Eddington and Erwin Schrödinger. She wrote papers with Schrödinger, Hideki Yukawa, and Walter Heitler.
She developed the first mathematical courses on quantum mechanics at UCD and taught the subject to generations of students there, until her early retirement in 1979.
During her time at UCD she gained a reputation for helping younger female colleagues who were trying to develop their careers.
« Previous