08.06.2023
Douglas Hyde: Irish Ideology and International Impact
Sheol an tOllamh Pól Ó Dochartaigh, An tUachtarán Ionaid agus Meabhránaí, Ollscoil na Gaillimhe, ÉIGSE: Imleabhar Breise 3: Douglas Hyde: Irish Ideology and International Impact, curtha in eagar ag an Ollamh Liam Mac Mathúna agus ag Dr Máire Nic an Bhaird, in Ollscoil na hÉireann, 49 Cearnóg Mhuirfean, Déardaoin an 8ú Meitheamh 2023.
Ag tarraingt ar an taighde is déanaí ar dhialanna, ar chomhfhreagras pearsanta, ar chuimhní cinn, ar thuarascálacha nuachtáin agus ar chartlanna Stáit, rianaíonn an cnuasach seo de
sheacht n-aiste le scoláirí mór le rá ar Dhúbhglas de h-Íde agus ar athbheochan na Gaeilge forbairtí i leagan amach agus i léiriú idé-eolaíocht na hathbheochana Gaeilge. Fiosraíonn an cnuasach seo gnéithe ríthábhachtacha de thionchar na gluaiseachta athbheochana chomh maith lena hidirghníomhú leis an diaspóra Éireannach agus scoláirí Ceilteacha i Meiriceá Thuaidh agus Mór-Roinn na hEorpa.
Ag cur fáilte roimh an lucht freastail ar an seoladh, ghabh an Cláraitheoir, an Dr Patrick O'Leary, a bhuíochas ó chroí, thar ceann OÉ, leis na heagarthóirí an tOllamh Liam Mac Mathúna agus an Dr Máire Nic an Bhaird agus na rannpháirtithe ar an imleabhar agus mhol sé gach duine as feabhas na scoláireachta agus raon an ábhair.
Thug an Cláraitheoir breac-chuntas ar naisc de h-Íde le OÉ agus ar thábhacht an chomhcheangail sin atá ann inniu. Bhí Dúbhglas de h-Íde an chéad Uachtarán na hÉirinn, ó 1938 go 1945, ina chéad uachtarán ar Chonradh na Gaeilge agus ina chéad Ollamh le Nua-Ghaeilge An Coláiste Ollscoile, Baile Átha Cliath ó 1909. Sa bhliain sin, ceapadh de h-Íde freisin mar bhall den chéad Seanad de chuid OÉ agus bhí sé ina bhall gníomhach den Seanad go dtí 1919.
Dúirt an Cláraitheoir: 'Léiríonn an t-imleabhar atá á sheoladh anseo tráthnóna tiomantas OÉ do staidéar na hÉireann agus d'oidhreacht Dhúbhglais de h-Íde. Soláthraíonn sé lánléargas iontach de shaol de hÍde, mar ghníomhaí, scoláire, taighdeoir, athair, fear céile agus polaiteoir.'
Ag seoladh an imleabhar, dúirt an tOllamh Ó Dochartaigh: 'Cnuasach iontach aistí é seo a chuireann lenár n-eolas ar na gnéithe idirnáisiúnta de shaothar Dhubhghlas de hÍde agus daoine eile agus iad ag cur chun cinn athbheochan na Gaeilge. Comhghairdeachas leis na heagarthóirí as an imleabhar seo a chur le chéile.'
Ghabh an tOllamh Mac Mathúna buíochas ansin leis na scoláirí a chuidigh leis an imleabhar: Feena Tóibín, Regina Uí Chollatáin, Aoife Whelan, Fiona Lyons, Máire Nic an Bhaird agus Brian Murphy.
Ghabh sé buíochas le comhaltaí Bhord Comhairleach Éigse a raibh roinnt acu i láthair, Ghabh sé buíochas freisin le foireann OÉ, Richard Kelly ó CRM Print + Design, agus Four Courts Press as breathnú i ndiaidh díolacháin agus dáileadh gach foilseachán de chuid Éigse.
Dúirt an tOllamh Mac Mathúna freisin 'Soláthraíonn na haistí san imleabhar seo fianaise nua i dtaobh éifeacht de h-Íde mar phríomhcheannaire ghluaiseacht na Gaeilge, agus mar fhear a ghlac páirt lárnach i ngréasáin léannta náisiúnta agus idirnáisiúnta ar feadh breis agus leathchéad bliain."
Díolacháin agus dáileadh: Four Courts Press
Photos from the launch: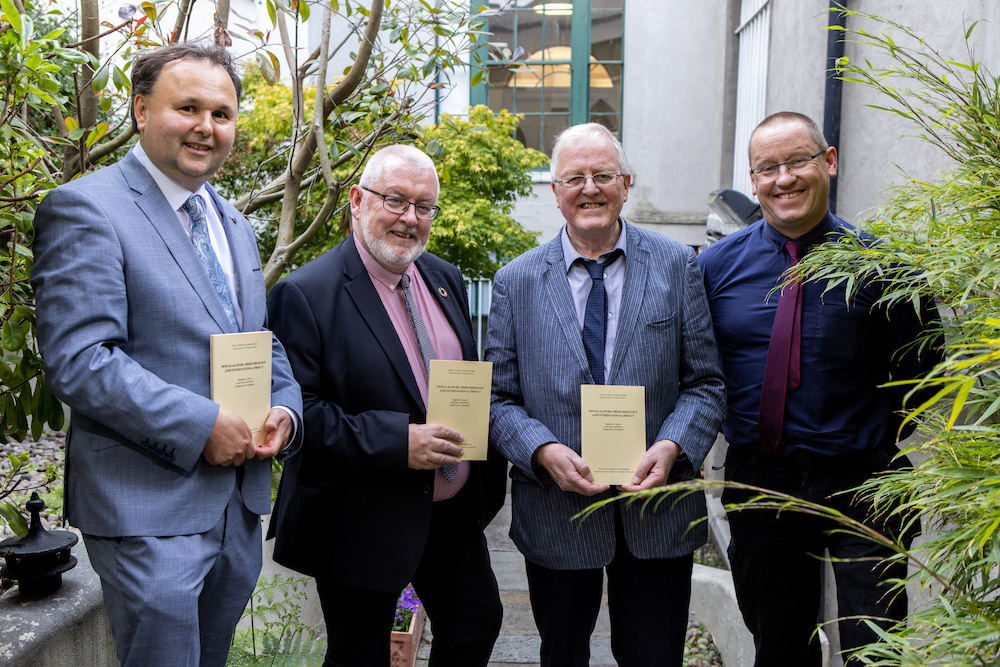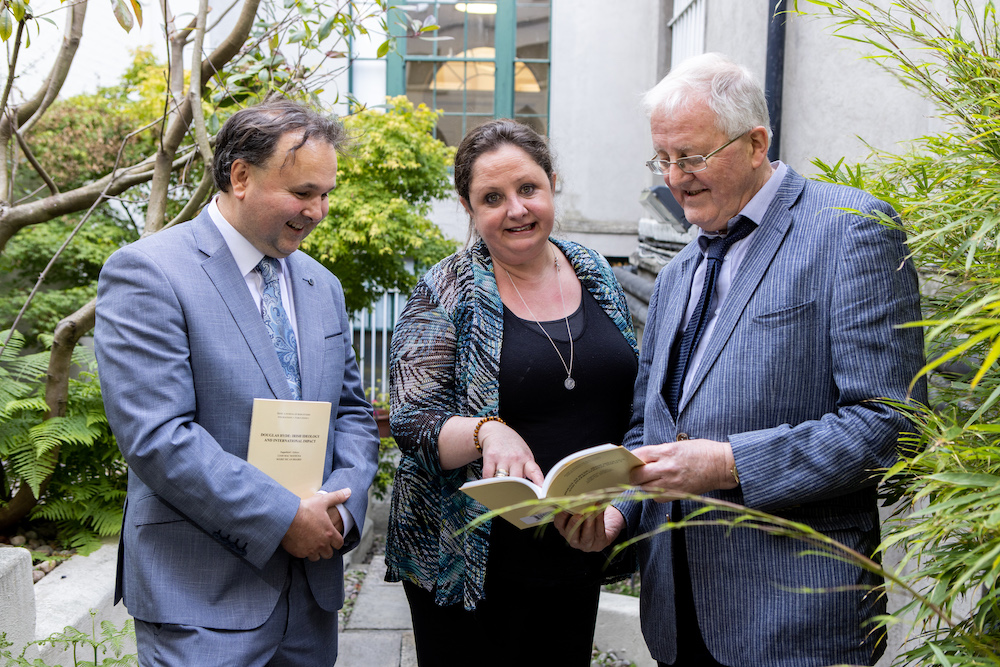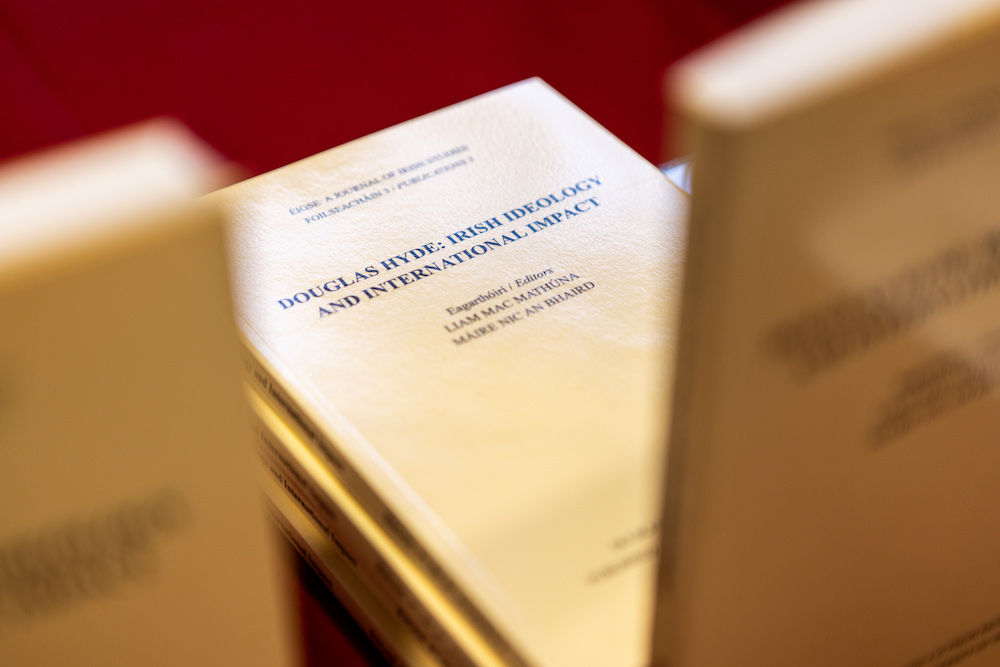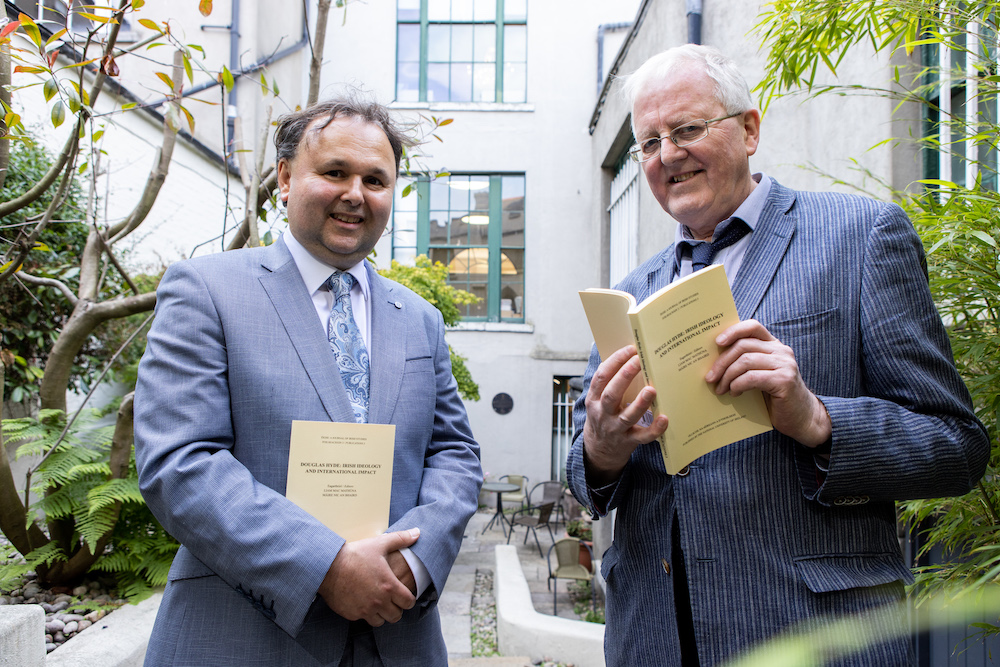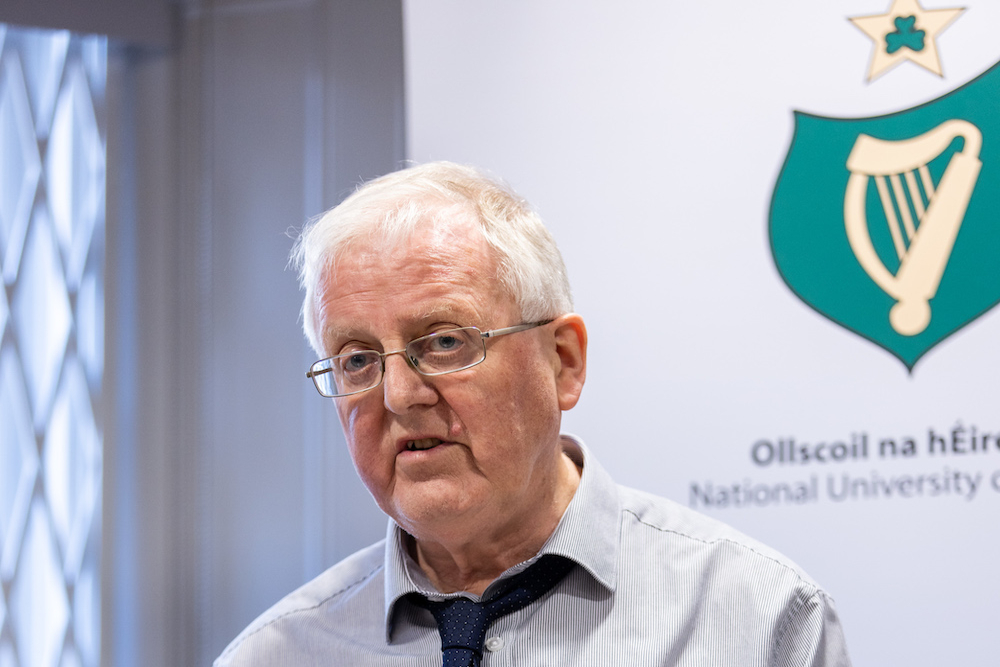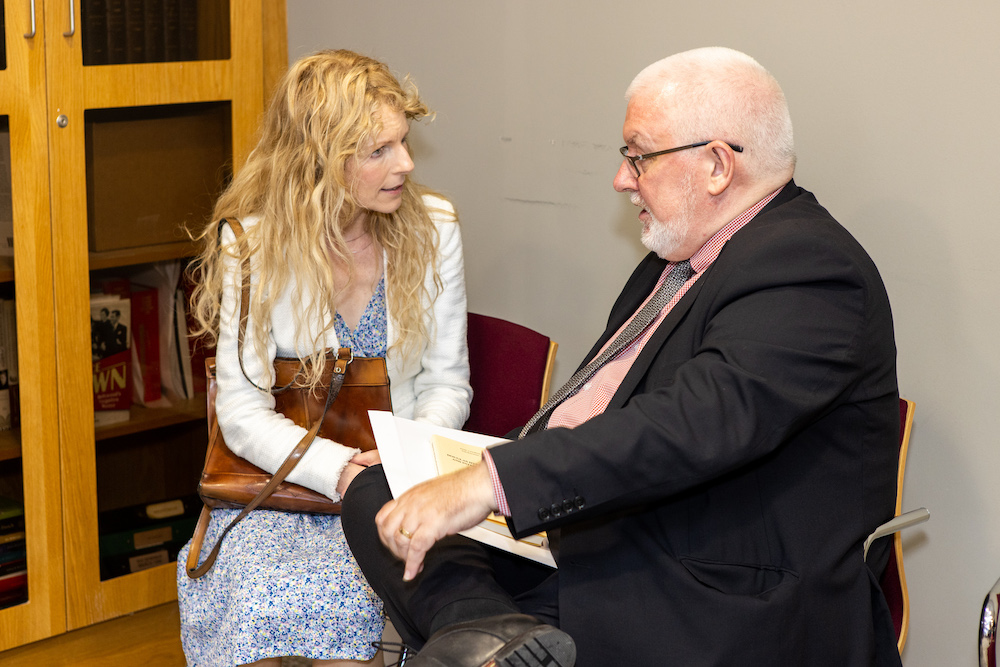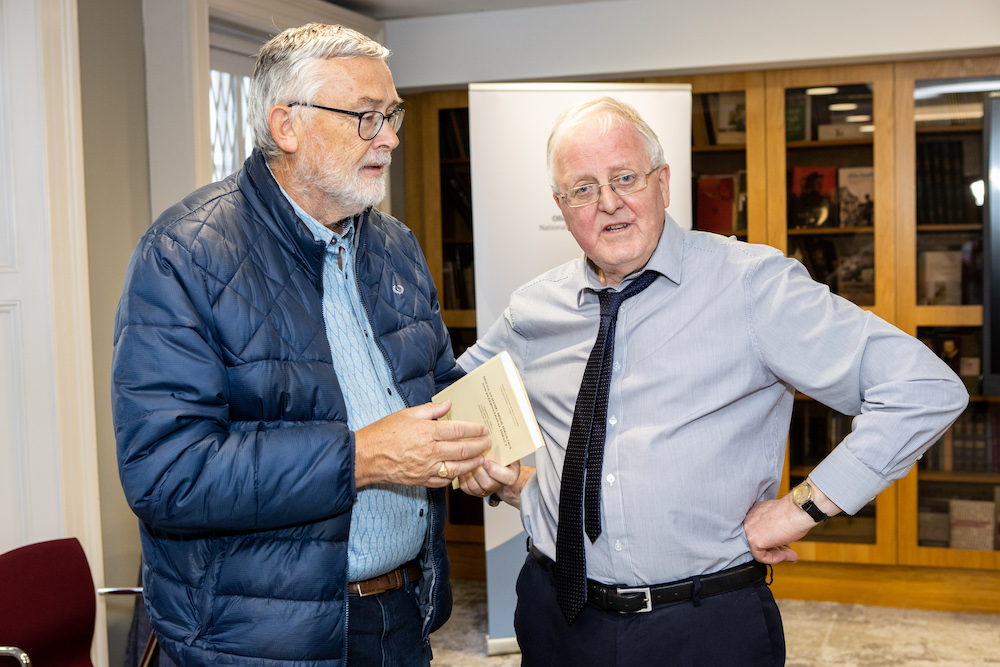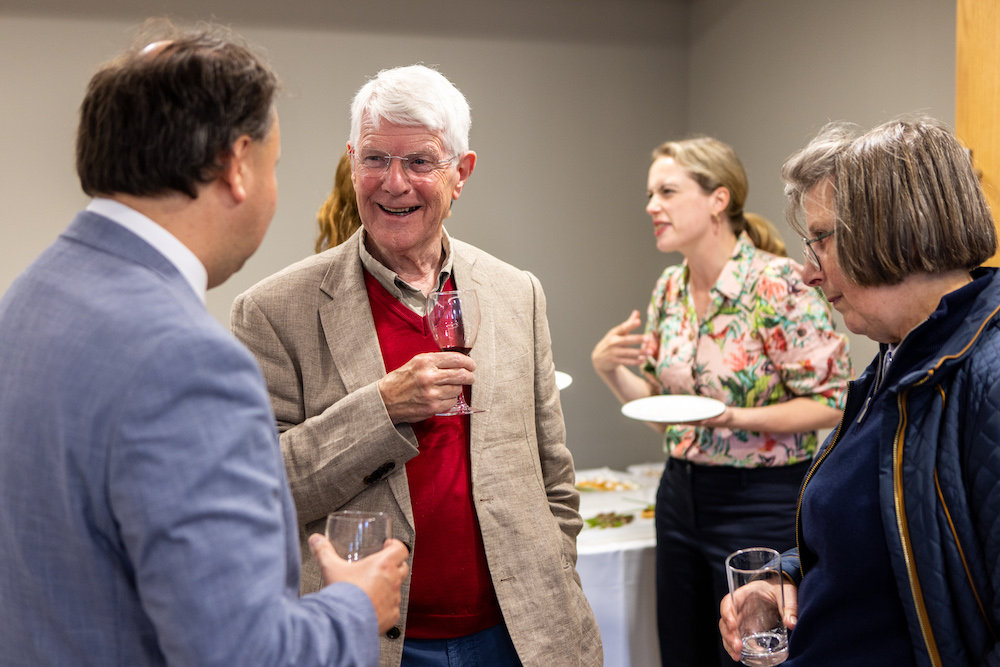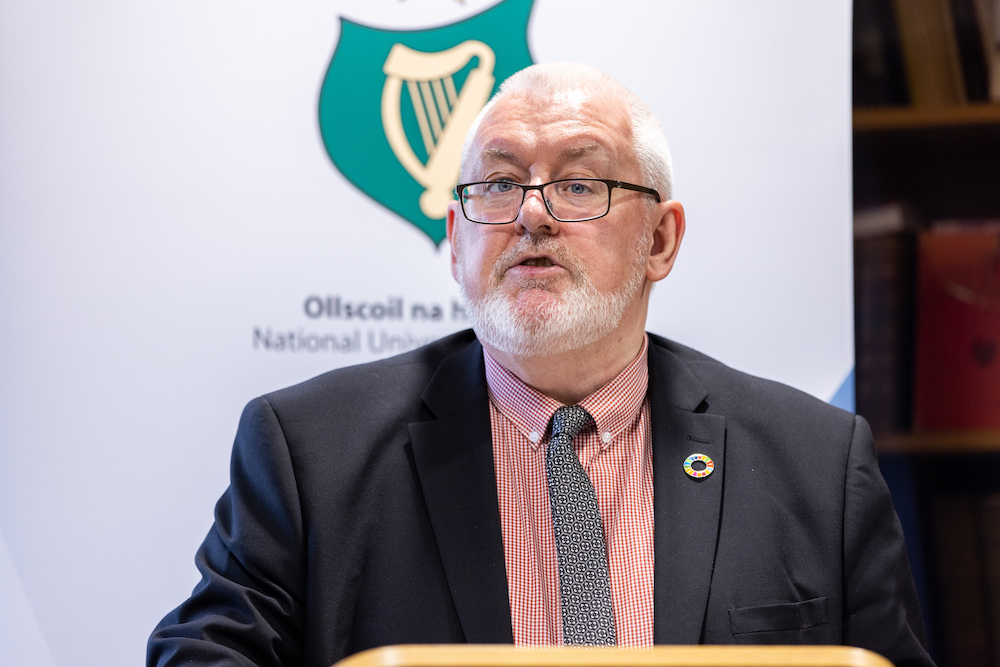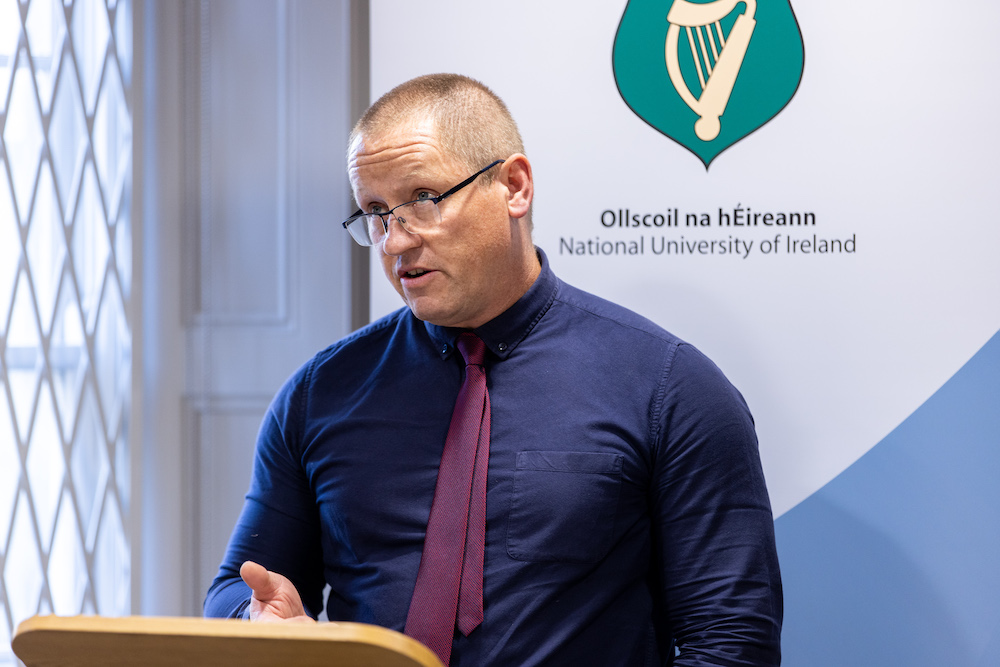 Further information:
In 1922 the Senate of the National University of Ireland accepted a recommendation from the Professors of Irish that the Dr Adam Boyd Simpson bequest should be used to fund 'a journal of Irish research'. Hyde (Dúbhglas de h-Íde, An Craoibhín) was appointed editor. The result
was Lia Fáil, an Irish language journal. Four volumes were published between 1925 and 1932. Éigse: A Journal of Irish Studies (Lia Fáil's successor) has been published by the University since 1939, and an ancillary series was introduced in 2007.
A facsimile reproduction of the four volumes of Lia Fáil, edited by Liam Mac Mathúna, was published by NUI in 2013. The proceedings of a seminar Douglas Hyde: the Professor of Irish who became President were published in 2016. And in 2019, NUI in collaboration with the School of Irish, Celtic Studies and Folklore, UCD instituted the Douglas Hyde Lecture, at which President Michael D. Higgins gave the inaugural address.
Éigse is devoted to the cultivation of a wide range of research in the field of Irish language and literature. Many hitherto unpublished texts in prose and verse ranging from Old Irish down to the modern language and including items from oral narration have appeared in its pages.
Éigse also regularly includes important contributions on grammar, lexicography, palaeography, metrics, and the history of the Irish language, as well as on a wide variety of Irish literary topics. There is special emphasis on all aspects of the study of the language and literature of Modern Irish. Textual studies are complemented by broader, contextual studies. Contributions, which may be in Irish or English, are particularly welcome from younger scholars and those working in newer and emerging research areas such as the interaction of manuscript and print, the revival period, and sociolinguistics.
ÉIGSE: Imleabhar Breise 3 | Ancillary Volume 3
CLÁR AN ÁBHAIR / CONTENTS
ON DE-ANGLICISING THE IRISH NATION / AR MI-SACSANUGHADH AN CHINIDH ÉIREANNAIGH
Feena Tóibín

A NEW GAELIC LEAGUE IDEA? THE GLOBAL CONTEXT
Regina Uí Chollatáin

DOUGLAS HYDE'S INTELLECTUAL LINKS WITH JOHN QUINN, LADY GREGORY AND W. B. YEATS
Liam Mac Mathúna

IRISH INDEPENDENT COVERAGE OF DOUGLAS HYDE'S VISION FOR A DE-ANGLICISED IRELAND
Aoife Whelan

DOUGLAS HYDE'S INTERNATIONAL IMPACT AND INFLUENCE: EVIDENCE FROM HIS POSTCARD CORRESPONDENCE AND MEMOIR
Fiona Lyons

'THE APPLE DOESN'T FALL FAR FROM THE TREE': THE CREATIVE INFLUENCE OF DOUGLAS HYDE AND LUCY COMETINA KURTZ ON THEIR CHILDREN
Máire Nic an Bhaird

PRESIDENT HYDE, PROFESSOR POKORNY AND IRISH REACTIONS TO THE HOLOCAUST
Brian Murphy
ÉIGSE: Ancillary Volumes
Léann Lámhscríbhinní Lobháin / The Louvain Manuscript Heritage edited by Pádraig A. Breatnach, Caoimhín Breatnach, and Meidhbhín Ní Úrdail (NUI, 2007)

Saothrú na Gaeilge Scríofa i Suímh Uirbeacha na hÉireann, 1700–1850 edited by Liam Mac Mathúna and Regina Uí Chollatáin (NUI, 2016)

Douglas Hyde: Irish Ideology and International Impact edited by Liam Mac Mathúna and Máire Nic an Bhaird (NUI, 2023).
All publications are available to purchase from Four Courts Press who manage sales and distribution of NUI Publications.
« Previous