21.05.2009
At a special ceremony held in NUI on Wednesday 20 May 2009, the Chancellor Dr Maurice Manning made presentations to seven scholars who qualified for NUI Centennial Awards valued in total at over €0.25 million. The awards are as follows:
NUI Centennial Post-Doctoral Fellowship in Irish Studies (History)
NUI Centennial Post-Doctoral Fellowship in Irish Studies (Literature)
NUI Centennial Post-Doctoral Fellowship in Irish Studies (Archaeology)
NUI Centennial Prize for Irish History
NUI Centennial Prize for Languages, Literature and Linguistics
Two NUI Centennial Prizes for Academic Publishing in Medical and Health Sciences

Speaking at the event, the Chancellor commended the high achievements of the scholars. He noted that 'evaluating scholarship, identifying degrees of excellence and rewarding outstanding achievement are activities that are at the heart of every university. So it is with the National University of Ireland where the identification and public acknowledgement of its top scholars have been central activities since the foundation of the University'. Dr Manning mentioned that in all approximately €1.0 million has been spent annually in recent years by NUI on the awarding of Fellowships, Studentships, Scholarships and Prizes.

At the conclusion of the Chancellor's address, Dr Attracta Halpin, Registrar, introduced the recipients. She noted that the collective achievement of the seven scholars chosen for the NUI Centennial awards is inspiring and reflects the federal university at its high point.

Introducing the winners of the three Post-Doctoral Fellowships, she drew attention to the fact that these awards had been advertised outside Ireland and that the competition attracted entries from graduates of universities in the United Kingdom, USA, Australia, New Zealand, Germany, Italy, Austria and Poland in addition to applicants from Ireland. 'It was gratifying that at the end of the competitions, the three scholars selected for the Fellowships were all NUI graduates, whether at undergraduate or postgraduate level. We were also pleased that the three Fellows are taking up the Fellowships in three separate Constituent Universities.'

NUI Centennial Post-Doctoral Fellowship in Irish Studies (History)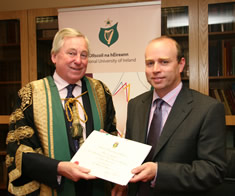 Dr Brian F. Gurrin was a relatively late convert to History. He started his academic career in DCU with an honours degree in Applied Physics, followed by the BA Modular in UCD in History and Economics. By this stage he had been bitten by the History bug and he went on to Maynooth where he qualified for an MA in Local History with First Class Honours. Next as an IRCHSS scholar he did his PhD, also in Maynooth. For his doctorate, Dr Gurrin examined the demographics of the Greater Wicklow area between the Restoration and the Great Famine. More recently he has been involved in a research project based in Queen's University Belfast, examining denominational geography in Ireland between 1660 and 1926. Dr Gurrin will start his Post-Doctoral Fellowship in NUI, Maynooth in July under the guidance of Professor Vincent Comerford. His project for the Fellowship will examine the operation of local government in eighteenth-century Ireland. Building on his earlier work it will focus on the social relationships and tensions underpinning the operation of the two primary elements responsible for governing communities at the local level – the parish and the borough corporation. From this research he hopes to be able to cast some new light on the nature of Irish society in the 18th century.

NUI Centennial Post-Doctoral Fellowship in Irish Studies (Literature)
Dr Liam Lenihan did his BA and MA at UCC and was awarded a PhD in Trinity College in 2008. He has gone back to UCC for the Fellowship.Dr Lenihan's description of his subject covers a broad area, including 'Neoclassical and Romantic Art and Aesthetics, Irish Art and British Culture, Art History, Anglo-Irish Politics circa the Act of Union.' The primary aim of Dr Lenihan's projects is to publish a monograph on the writings of James Barry, the very interesting Irish neoclassical artist, who was expelled from the British Royal Academy. Barry was the subject of a major exhibition in the Crawford Gallery in Cork in 2004/05.

NUI Centennial Post-Doctoral Fellowship in Irish Studies (Archaeology)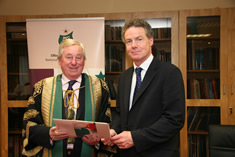 Dr Blaze O'Connor is from New Zealand and completed her BA and MA at the University of Auckland. She then came to Ireland and did her PhD in the school of Archaeology, UCD. Her PhD was concerned with 'contextualising prehistoric rock art in Ireland'. Dr. O'Connor initially hesitated before entering for the Fellowship for health reasons, but with the encouragement of her mentor Professor Gabriel Cooney she was prevailed upon to send in an application. She was interviewed for the Fellowship by teleconference from Britain and emerged clearly at the top of her group. The Selection Panel commented that her performance was 'outstanding under every heading' and that her research would be 'of the highest international significance'. Dr O'Connor will take up the Fellowship in the Department of Archaeology at University College Dublin, under Professor Gabriel Cooney. Her project aims to develop an 'archaeology of art' on the basis of the stone carving dating to the Neolithic and Bronze Age of Ireland and Britain. The project will assess the relationship between ancient and contemporary art practices and their respective roles in society, to see whether the concept of an 'archaeology of art' could be applicable to art forms of all periods and cultures. Dr O'Connor was unable to be at the ceremony; Professor Gabriel Cooney, UCD School of Archaeology, accepted the award on her behalf.

Academic Publishing Prizes
Dr Halpin remarked that one aspect of the Senate's ambition for the NUI centenary was to celebrate the history of NUI. A second part was to look to the future. Consistent with this, it was decided that the prizes to be awarded for academic publishing should go to academics at a relatively early stage in their careers. To this end the Senate offered prizes for first book publications in two areas: History, and the group of subjects included in Languages, Literature and Linguistics. Graduates of the National University of Ireland and members of staff of the Constituent Universities and Recognised Colleges of NUI, whose doctoral degrees were awarded no earlier than 1 January 1990 were eligible to enter for these prizes.

NUI Centennial Prize for Irish History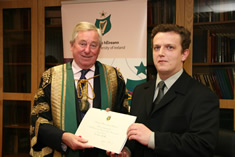 Dr Owen McGee was awarded the NUI Centennial Prize in Irish History for his publication The IRB: The Irish Republican Brotherhood from the Land League to Sinn Féin, published in 2005 by Four Courts Press. In making its recommendation to the Senate concerning the awarding of the Prize, the Selection Panel commented as follows: 'The IRB: The Irish Republican Brotherhood from the Land League to Sinn Féin, is a powerful contribution to Irish historiography. In his excellent introduction, Dr McGee clearly sets out the definition and scope of his work. In nearly 400 pages of closely documented text, he more than fulfils our expectations, and his conclusion roundly points up the overall significance of his thesis. Not only is the work the most comprehensive study to date of the seminal, radical, organisation in modern history but it places the IRB in the total context of late-nineteenth/early twentieth century Irish politics and culture, thus creating a rare panoramic canvas.' Dr McGee is a graduate of UCD. He is currently working in the Manuscripts Department of the National Library.

NUI Centennial Prize for Academic Publishing in Languages, Literature and Linguistics

Dr William Desmond, Department of Ancient Classics at NUI, Maynooth, was awarded the NUI Centennial Prize for his book The Greek Praise of Poverty: Origins of Ancient Cynicism, published in 2006 by University of Notre Dame Press. Commending to the Senate the excellence of Dr Desmond's publication, the Selection Panel highlighted his excellent handling of the scarce sources used and his original and compelling prose style. Dr Desmond has taught at NUI, Maynooth since 2007. A graduate of Yale University, his main research interests lie in classical literature with particular reference to Plato and the philosophy of Cynicism. His book is based on research completed for his doctoral studies. Reflecting the continuing relevance of the ancient world of Greek philosophy, William Desmond's book has a lot to say about Greek attitudes to wealth and poverty and their distrust of 'great concentrations of wealth as potentially oligarchical or tyrannical'.

NUI Centennial Prizes (two) for Academic Publishing in Medical and Health Sciences
These prizes were aimed at scholars whose doctoral degrees were awarded no earlier than 1 January 1990. In these cases, the awards were based on a body of work published in peer-reviewed journals, rather than on book publications. In making their recommendations to the Senate on the awarding of the prizes, the Selection Panel commended the excellence of the candidates' records in publication in terms of the body of work produced, the quality of the journals in which they had published and the overall impact of their research. They also noted that the publications of these candidates reflected well on the research profile of both their respective universities.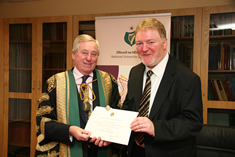 Dr John J (Joe) O'Connell is Senior Lecturer at the Department of Medicine in UCC and has made significant contributions to cancer research over the course of his academic career to date. Specifically he has discovered a mechanism of immune invasion of cancer. This discovery has been extremely important to studies of malignancy in cancers such as colon, breast and lung cancer. Dr O'Connell has published extensively, both collaboratively and as a lead author, in many peer-reviewed journals including International Journal of Biochemistry, Journal of Immunology, Molecular Medicine and Journal of Pathology.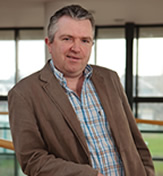 Professor Paul Moynagh is currently Director of the Centre of Immunology in NUI Maynooth and has built up a distinguished academic career examining the neurological and chemical effects of inflammation of the brain. He has collaborated both nationally and internationally and has had research published extensively in many peer-reviewed journals including Journal of Biological Chemistry, Journal of Immunology, Biochemical Journal and Neuroscience. Professor Moynagh was unable to attend the ceremony