02.12.2009



At a ceremony today in Royal Hospital Kilmainham, the Chancellor of the National University of Ireland, Dr Maurice Manning conferred the following honorary degrees:

Mr Tom Arnold Degree of Doctor of Laws
Mr Justice Donal Barrington Degree of Doctor of Laws
Dame Jocelyn Bell Burnell Degree of Doctor of Science
Ms Dorothy Cross Degree of Doctor of Arts
Mr John White Degree of Doctor of Education

Introducing Mr Tom Arnold, Chief Executive of Concern, Professor John G. Hughes, President of NUI Maynooth remarked 'the National University of Ireland is giving public recognition to his outstanding analytical, political and networking skills that he applies with great effect at national, EU and global levels. He is a man of extraordinary energy, constructive restlessness, intense curiosity, passion and compassion, all of which he carries with great modesty. He is a model public servant and an outstanding ambassador forIreland'.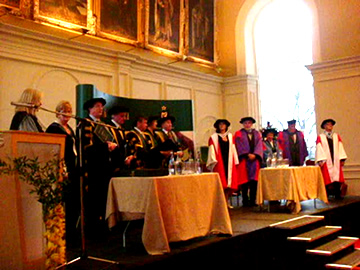 Speaking of Mr Justice Donal Barrington, Ms Cliona de Bhaldraithe Marsh of UCD remarked 'Justice Barrington is undoubtedly recognised as one of the most important intellectual voices of modern Ireland. He is not simply eminent in the legal world: he is one of its pre-eminent figures. This fact is attributable not only to his brilliance as a lawyer, but his character as a man. As a barrister, a judge and First President of the Human Rights Commission his reputation of itself connotes the fundamental values of fairness, moral integrity and courage'.

Introducing Mr John White, General Secretary of the ASTI, Professor Mary P. Corcoran of NUI Maynooth said 'John White as a teacher, an educationalist and a Trade Union leader has shown a remarkable commitment to affirming and progressing the cause of education in the creation and maintenance of social solidarity and enduring values'. As a robust defender of their rights he has earned the trust of teachers that he represents. He as brought a renewed sense of purpose and unity to the Association of Teachers of Ireland, in this its centenary year'.

Introducing Dorothy Cross, Dr Michael B. Murphy, Vice Chancellor of the University remarked, 'Cross's work seems to analyse emotions like desire, while urging the viewer to question appearances, stereotypes and the social conventions and superstitions that one associates with them. Her works are not only destructive or nihilistic, but rather show a wish to seek out the very essence of things, while analysing along the way the manner in which we perceive them'.

In his introduction of Dame Jocelyn Bell Burnell, Professor James Brown, President, National University of Ireland, Galway said, 'Her discovery of the pulsar, in 1967, ranks as an important milestone in the history of astrophysics, because it soon became clear that pulsars were rapidly-rotating "neutron stars" the existence of which had been postulated since the 1930s. Many astronomers, particularly those who have worked with her, feel that it was due to her characteristic tenacity and attention to detail that she was able to recognise the cosmic pulsar signal, as being different from terrestrial inference'.