21.09.2009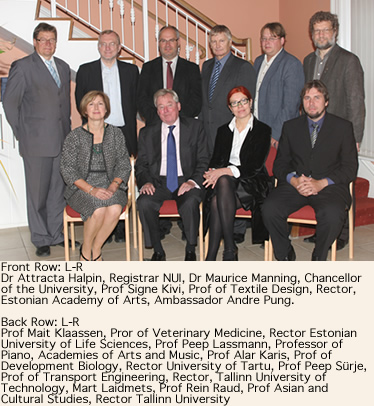 On Monday 21 September 2009, the Chancellor, Dr Maurice Manning and the Registrar Dr Attracta Halpin received a delegation in NUI from the Estonian Rectors Conference.

The members of the delegation were   Professor Alar Karis, Rector, University of Tartu, Professor Peep Sϋrje, Tallinn University of Technology,  Professor Signe Kivi, Rector, Estonian Academy of Arts, Professor Peep Lassmann, Estonian Academy of Music and Theatre,  Professor Rein Raud, Tallinn University, Professor Mait Klaassen, Estonian University of Life Sciences and Mr Mart Laidmets, Secretary General, Estonian Rectors' Conference.

The Rectors were accompanied by the Estonian Ambassador, His Excellency Andre Pung.