28.04.2010

At an event in 49 Merrion Square to highlight the cultural role of NUI, the Chancellor of the University Dr Maurice Manning gave details of NUI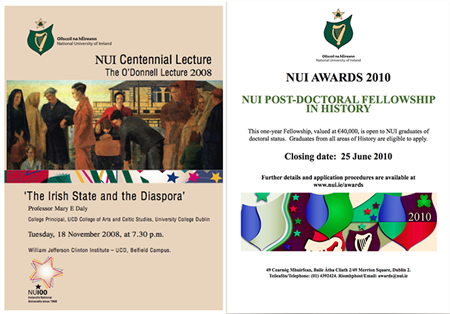 awards for history in 2010. He mentioned that among its awards this year, NUI was offering an additional Post-Doctoral Fellowship in History. This one - year fellowship worth €40,000 is open to NUI graduates in history and is tenable in an NUI Institution.
 
Emphasising the support given annually by NUI for historical research and scholarship, the Chancellor indicated that in 2010, NUI awards for history could exceed €100,000. In addition to the Fellowship, awards on offer include Travelling Studentships valued at €42,000 and the Mansion House Fund Scholarship (€2,000) and Prize (€1,300) for Irish History, awarded at final year undergraduate level. In addition, publication grants of up to €3,000 are available to staff of the NUI universities to support publications. Dr Manning remarked that NUI was 'delighted to offer these awards in 2010 in keeping with the central role of the NUI to encourage and promote Irish historical, linguistic, literary and cultural studies'.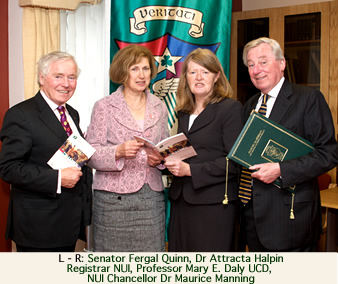 Dr Manning launched the publication of The Irish State and the Diaspora by Professor Mary E. Daly of UCD, which considers how Irish governments and officials interacted with the Irish overseas since the foundation of the State. Referring to the increased levels of emigration currently being experienced Dr Manning expressed the view that 'For Ireland as a small outward-looking island nation, …. emigration will always assume a certain importance. While the enforced emigration caused by the current depressed state of the economy is a source of grief and anxiety for many families, attitudes to working abroad tend to be more positive in the better times that we hope will return before too long. In her excellent study, Mary Daly has done us a favour by presenting the Irish diaspora in all its complexity and the shifting dynamic of government policy towards the Irish abroad.
Further information on Post-Doctoral Fellowship in History