23.10.2009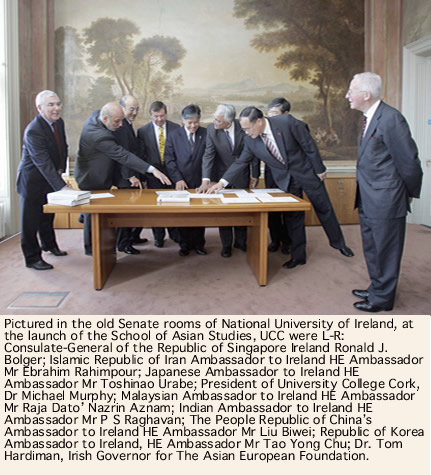 On Friday, 23rd October, UCC President and NUI Vice-Chancellor, Dr Michael Murphy launched the UCC School of Asian Studies which is Ireland's first. The launch which was held in NUI was followed by round table discussions with the Ambassadors of six Asian nations.
Speaking at the launch, Dr Murphy spoke of the necessity for Ireland to develop a comprehensive knowledge base of the Asian region indicating that the School of Asian Studies will become a vital resource in achieving this aim. He acknowledged the support and contribution of all the countries' representatives along with the efforts of the Professor Fan Hong, Head of the School.
The launch involved the foundation of the Irish Institute of Korean Studies by the Korean Ambassador, Mr Tao Yong Chu, along with the introduction of three new postgraduate courses in the School of Asian Studies by Professor David Cox, Head of the College of Arts, Celtic Studies and Social Sciences. The event was also marked by the launch of The Asian Studies Fellowship by Dr Tom Hardiman, Irish Governor for The Asian European Foundation.
Speaking at the event the Chinese Ambassador to Ireland Mr Liu Biwei acknowledged the close links Ireland has developed with The Peoples Republic of China in thirty years since the beginning of diplomatic relations between both states. He recognised especially the value of not just the significant business links, but also the deep historical and cultural traditions within both countries. He said that along with the presence within China of over 300 Irish companies and business, Irish culture and Irish literary arts have also flourished within the PRC.
The importance of an understanding of the Asian region, was reiterated by the Indian Ambassador to Ireland, Mr P S Raghaven, who also spoke of the historical links between India and Ireland and hoped for the further development of an Indian programme within the new school.
The School of Asian Studies aims to develop comprehensive undergraduate and postgraduate programs on all aspects of study within the Asian region.