24.11.2009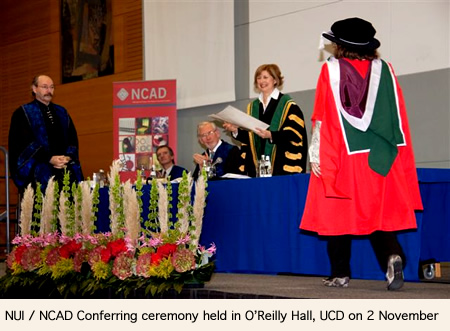 The National College of Art and Design, a Recognised College of the National University of Ireland, held its annual conferring ceremony on 2 November in O'Reilly Hall, UCD.
The NUI Registrar, Dr Attracta Halpin, conferred over two hundred and sixty students with Bachelor, Masters and Doctoral degrees and Postgraduate Diplomas of the National University of Ireland.
With NCAD being the only art and design college in the Republic of Ireland to be awarded university degrees, the Registrar congratulated these newest graduates on their achievements and highlighted the important role that art and design graduates could play in developing the interface between visual creativity and digital media to help widen new technologies as sources of employment and wealth creation.