25.11.2009

Royal Hospital Kilmainham, Wednesday 25 November 2009 at 2.30 p.m.
The National University of Ireland today celebrated the academic achievements of its graduates and students at its annual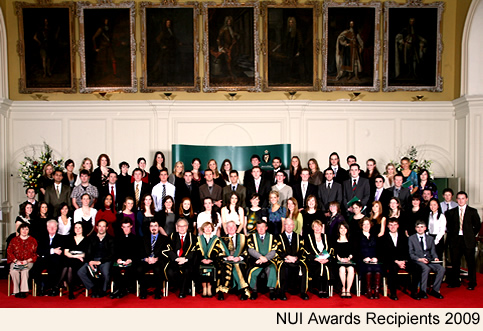 awards ceremony held in the Royal Hospital Kilmainham. In 2009 almost one hundred students and graduates from the constituent universities and recognised colleges of the federal university received awards. UCD, UCC, NUI Galway, NUI Maynooth, RCSI and NCAD were represented among the award winners. The value of the NUI Awards in 2009 is in the order of €0.68 million.
Speaking at the event, the NUI Chancellor Dr Maurice Manning referred to the recommendation in the McCarthy Report that NUI should be abolished.
Dr Manning said that 'This proposal does not stand up to impartial scrutiny. Abolishing NUI would not save money but would remove a national institution, which has served the country well for over a century. While the crisis in the public finances must be addressed, at this time, the Government should not be panicked into making short-term damaging changes to our educational infrastructure, such as would occur if the abolition of NUI were to proceed. Be in no doubt about it. If NUI were to disappear, the identity of each of the member institutions would be altered and fragmentation, which has long been identified as a weakness of the university sector, would increase.'
Nine graduates received Travelling Studentships with a combined value in excess of €250,000. The prestigious Irish Historical Research Prize was awarded to Dr Maurice Bric, of the School of History and Archives, UCD for his book Ireland, Philadelphia and the Re-Invention of America, 1790-1800.
Other awards presented include the Dr H H Stewart Scholarships and medals, the Dr Mary L Thornton Scholarship in Education of €5,000, the Denis Phelan Scholarship of €14,000, the Mansion House Fund Scholarships and the NUI Art and Design Award.

Full listing of NUI Awards 2009 Winners
« Previous | Next »