02.12.2010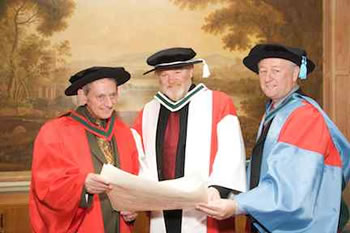 At a special event yesterday Thursday 2 December in National University of Ireland, 49 Merrion Square, Dublin 2. The Chancellor of the University, Dr Maurice Manning conferred honorary degrees as follows:


Dr Brendan Gleeson Actor, Doctor of Arts
(photo centre)
Dr Richard Milner Nuclear Physicist, Doctor of Science
(photo right)
Dr Garrett O'Connor President of the Betty Ford Centre, Doctor of Medicine
(photo left)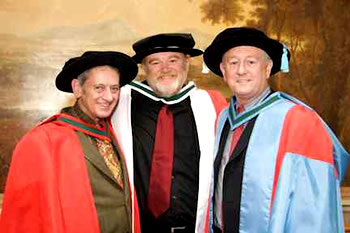 Explaining that the weather had forced the cancellation of the event planned for the Royal Hospital Kilmainham on safety grounds, the Chancellor, Dr Maurice Manning welcomed guests to the conferring ceremony in NUI. He said that given that each of the graduands had travelled so far to be there for the conferring, NUI was determined to go ahead with the ceremony. He was pleased that it had been possible to make new arrangements very quickly to enable the ceremony to take place in NUI's own premises. NUI was pleased to honour three such distinguished individuals, one a graduate of UCD, one of UCC and the third of RCSI.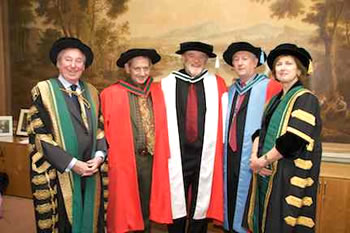 L -R : NUI Chancellor Dr Maurice Manning, Dr Garrett O'Connor, Dr Brendan Gleeson, Dr Richard Milner, Dr Attracta Halpin Registrar, NUI
Download Citations