21.10.2011
Garret FitzGerald and the Quest for a New Ireland
As a memorial to its former Chancellor, NUI has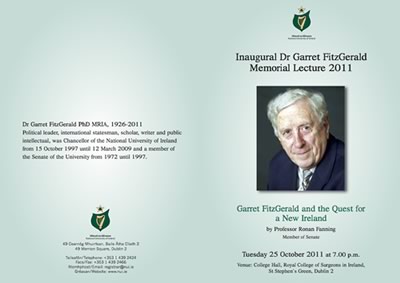 established the Dr Garret FitzGerald Lectures which will be an annual lecture series by distinguished speakers on topics of national or international importance. In the inaugural lecture Garret FitzGerald and the Quest for a New Ireland, Professor Ronan Fanning will focus on Garret himself and will seek to present a critical evaluation of his contribution to public life.
The lecture will take place in the Royal College of Surgeons in Ireland, St Stephen's Green on 21 October 2011 at 19:00 hrs.
Mr Ruairí Quinn TD, Minister for Education and Skills, and a member of Dr FitzGerald's 1982-1987 coalition government, will make a response.
The Taoiseach Enda Kenny TD remarked, 'Dr Garret FitzGerald was a towering figure in Irish public life for several decades until his death in May 2011. Throughout his life he devoted his considerable intellectual capacities and his prodigious energy to the social, economic, cultural and political advancement of Irish society. It is entirely appropriate that the National University of Ireland, of which he was Chancellor from 1997 until 2009, should initiate the first major public tribute since his death'.
The lecture is by invitation only as space is limited. It will be recorded and posted on this site later.