07.11.2012
Royal Hospital Kilmainham, Wednesday 7 November.
'NUI presents Awards and Scholarships, valued at over €1 million at its annual Awards Ceremony'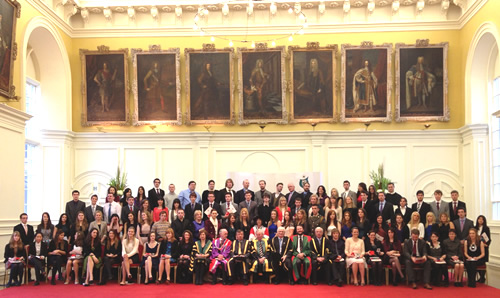 At a ceremony today in the Royal Hospital Kilmainham, the Chancellor of the National University of Ireland, Dr Maurice Manning presented Awards and Scholarships valued at over €1 million to graduates and students of the NUI.
Dr Manning stated that the NUI was pleased to offer this level of support for scholarship in these straitened times, 'We regard our awards as an investment in academic excellence and we are very confident that this investment will pay handsome dividends not just for the individuals concerned. There will also we hope be lasting benefits for Ireland, for our society, our culture and our economy'.
Speaking at the event, he congratulated the recipients of the awards on their academic achievement and introduced the inaugural NUI Dr Garret FitzGerald Post-Doctoral Fellowships, 'I am particularly pleased that for the first time we are awarding the NUI Dr Garret FitzGerald Post-Doctoral Fellowships, in honour of our late great Chancellor. As Chancellor, Garret greatly enjoyed this ceremony as an endorsement of so much that he valued: intellectual challenge and rigour, and the opportunity to meet the brightest minds of the rising generation'.
115 awards were presented which included five NUI Post-Doctoral Fellowships, the E J Phelan Fellowship in International Law, the NUI Travelling Studentships, the Dr H H Stewart Medical and Literary Scholarships and the NUI NCAD Art and Design Prize for an artist's book and prints entitled, 'Albert, Ernest and the Titanic' depicting the story of the two printers working onboard the Titanic.
In 2012, over one hundred students and graduates from the constituent universities and recognised colleges of the federal university received awards. UCD, UCC, NUI Galway, NUI Maynooth, RCSI, St Angela's College and NCAD were represented in the award winners.
Details of NUI Awards 2012 Competition winners
« Previous