02.08.2012


The universities of Ireland*, North and South, will jointly confer an honorary Doctorate of Laws (LLD) on Charles F. "Chuck"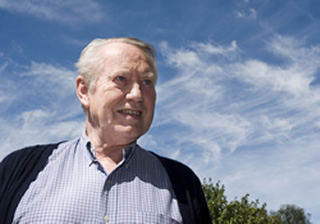 Feeney, founder of The Atlantic Philanthropies on 6 September next. This is the first time such an honour will have been conferred jointly by all the Universities on the island of Ireland.  The universities are coming together to honour Chuck Feeney's remarkable contribution to Irish society, and in particular to the universities. 
Chuck Feeney's philanthropic purpose in Ireland has been to create a brighter future and a better society for the people of Ireland. He believes that one way to achieve this is to enable Ireland to become a full participant in the knowledge society and to compete in the knowledge economy. The Atlantic Philanthropies, which he founded in 1982, identified Irish universities, which of their nature are devoted to the transmission of knowledge and the generation of new knowledge, as institutions central to this purpose.
Since 1990, Atlantic has donated nearly €770 million to Irish universities, North and South.  The physical manifestations of this philanthropy can be seen today most notably in the transformational research infrastructure which has been created on university campuses. This is providing a new generation of researchers with facilities their predecessors could only dream about. Human capital development in the universities had been supported through endowed chairs, scholarships and other forms of student support. University projects have also included support for new libraries and student on-campus housing and projects in the fields of health and ageing. In the longer term, the impact of the funding provided by Atlantic can be expected to be even more significant. 
The Atlantic Philanthropies (http://www.atlanticphilanthropies.org) is a limited life foundation. It has announced that it will complete its grantmaking in 2016. 
The Taoiseach, Enda Kenny T.D., and Minister for Education & Skills, Ruairi Quinn T.D., will attend the conferring ceremony. 
NUI is co-ordinating the special ceremony which will take place in Dublin Castle.  

* The Universities of Ireland: Dublin City University; National University of Ireland; National University of Ireland, Galway; National University of Ireland, Maynooth; Queen's University Belfast; Trinity College Dublin, University of Dublin; University College Cork; University College Dublin; University of Limerick; University of Ulster.