10.06.2014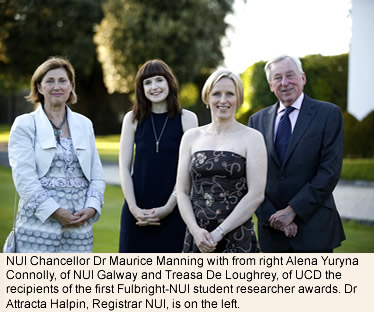 The Chancellor of the National University of Ireland (NUI), Dr Maurice Manning, has congratulated Treasa De Loughry and Alena Yuryna Connolly, recipients of the first ever Fulbright-NUI Student Awards, on their prestigious awards. The recipients were announced by Tom Healy, Chair of the Fulbright Scholarship Board, at an event at the U.S. Ambassador's Residence on 22 May 2014. 
The Fulbright Awards are presented on an annual basis to Irish students, scholars, and professionals to undertake postgraduate study and research at higher education, cultural, and related institutions in the United States. In 2014, for the first time, the awards featured two Fulbright-NUI Student Awards for PhD students in NUI institutions. Applicants in the humanities and sciences were subject to a rigorous selection process where research and study objectives were judged based on their potential to drive the Irish knowledge economy.
Treasa De Loughrey, the award recipient in the humanities, is a PhD candidate in English literature at UCD. The award will enable her to undertake research at the University of California - Los Angeles, exploring how contemporary global and postcolonial novels have registered world-systemic crises.
Alena Yuryna Connolly, the awardee in the sciences, is currently undertaking a PhD in Information Systems Security at NUI Galway. Alena will travel to the University of California – Berkeley to research socio-cultural measures that promote security-cautious behaviour of employees in organisational settings. 
Speaking at the event, Dr Manning commended the recipients on their significant achievements and highlighted the benefits of inter-cultural exchange for academic growth:
"As a federal university, the National University of Ireland has a strong appreciation of the value of inter-institutional collaboration in advancing scholarship. The diversity of knowledge and perspectives arising from this type of exchange creates an ideal environment for the evolution of ideas, the generation of new knowledge, and the development of innovations across the whole span of human activity. The University is therefore delighted to support the Fulbright Commission of Ireland in providing this prestigious opportunity to some of the most talented and promising students in NUI institutions. I have no doubt that this year's worthy recipients will make a valuable contribution in their chosen fields."