03.12.2014
At a ceremony yesterday in the Royal College of Physicians of Ireland, the Chancellor of the National University of Ireland, Dr Maurice Manning conferred honorary degrees in Literature and in Laws as follows: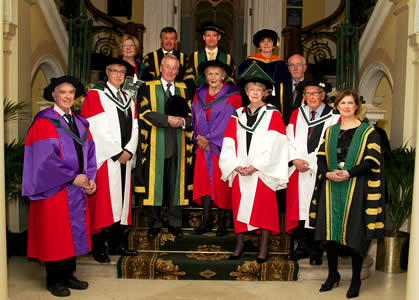 Dr Mary Canning for her contribution to higher education policy DLitt
Professor Michael Kenneally for his contribution to Canadian Irish Studies DLitt
Patrick McGinley for his contribution to Irish writing DLitt
Anna May McHugh for her contribution to Irish agriculture and rural life LLD
Fr Peter McVerry for his contribution to homeless and vulnerable young people LLD

Dr Mary Canning was introduced by Professor Philip Nolan, President of Maynooth University and Vice-Chancellor of the National University of Ireland. He referred to her exceptional contribution to Irish higher education policy. A member of the Higher Education Authority, Mary Canning is a former staff member of the World Bank where she was Lead Education Specialist in the Europe and Central Asia Region focusing principally on the Russian Federation and the countries of Central and Eastern Europe. Since 2006, she acts as a consultant for the OECD and the World Bank and, in 2009, was appointed to the National Strategic Review of Higher Education in Ireland. Recent publications include co-authorship of the World Bank/OECD Reviews of Higher Education in Kazakhstan (2007), Chile (2009), Kyrgyz Republic (2010) and Colombia (2013), as well as of OECD Education Reviews in China (2008), Santa Catarina, Brazil, (2010) and the Dominican Republic (2012).

Introducing Professor Michael Kenneally, of Concordia University, Montreal, Professor Michael Murphy, President of UCC mentioned his 'stellar research and publication record, stewardship over many years of the Canadian Association for Irish Studies and of the International Association for the Study of Irish Literatures, service as Honorary Consul General of Ireland in Quebec, as advisor to the Irish Government on education, culture and economics, and as appointee by the Irish Government to the Global Irish Network: the list is long'. Professor Murphy went on to say that 'here today, the National University of Ireland wishes especially to acknowledge and to celebrate the achievements of this remarkable scholar in deepening, strengthening and reimagining the discipline of Irish Studies not just in Canada and in North America generally but also in a wider context worldwide'.

Professor Nollaig Mac Congáil, of NUI, Galway, introducing Patrick McGinley referred to his exceptional contribution to Irish writing through a series of novels starting with Bogmail (1978) which saw him hailed as the natural successor to Flann O'Brien as a teller of blackly comic tales delivered in a highly self-aware Irish idiom. As the natural accompaniment last year to McGinley's latest novel, Cold Spring, Bogmail was reprinted in New Island's Modern Irish Classics series, and the BBC's 1991 adaptation of the novel was re-screened by TG4. His recent memoir, That Unearthly Valley, has been receiving critical acclaim for its singular robustness of style and emotion.

Introducing Anna May McHugh, the director of the National Ploughing Championships, Ms Cliona de Bhaldraithe Marsh said that 'Anna May has brought a small not-for-profit organisation event to become the largest outdoor event in Europe and one of the largest agricultural events in the world. What an achievement'.

Ms de Bhaldraithe Marsh attributed this success to her 'her enthusiasm, her ability to manage, and to bring people along with her. The attendance figures this year reached nearly 280,000. Quoting Ms McHugh, the National Ploughing Championships ''not only provides a national stage for showcasing all things agricultural but brings together people from all sectors of Irish society, both rural and urban."

Professor Orla Feely of UCD, introduced Fr Peter McVerry, founder of the The Peter McVerry Trust. She stated that 'today, the NUI recognises the selfless work and unwavering commitment of a man who has changed lives and challenged attitudes for over four decades now. The Peter McVerry Trust has established eleven homeless hostels, over 100 apartments, a residential drug detox centre and two drug stabilisation services. In 2013 it supported almost 3,600 vulnerable youths, and provided over 2,000 residential placements along with 75,000 meals'. Professor Feely said, 'through boom and through bust, in an ever-changing Dublin, the calls on the services of the Peter McVerry Trust have persisted, and the Trust has responded'. Highlighting the importance of his work, Professor Feely described Fr McVerry as 'a tireless campaigner, instantly identifiable with his cause. Fr Peter McVerry provides homes for the homeless, he provides help to those often portrayed as beyond help, and he provides a voice for those whose voice is not otherwise being heard. He challenges us, through boom and through bust, to look to the margins. We honour today this man, this work and the community he has served over his forty-year living ministry'.