02.12.2015

Royal College of Surgeons in Ireland, Wednesday 2nd of December at 4.30 p.m.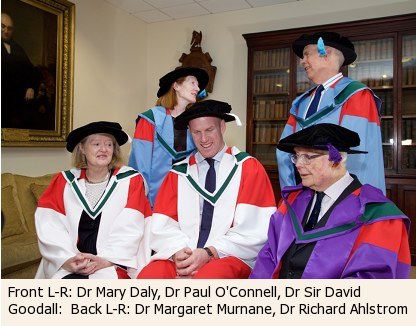 The National University of Ireland Honorary Conferring Ceremony 2015 took place on the 2nd of December in the Examinations Hall of the Royal College of Surgeons in Ireland.

Five highly distinguished individuals were conferred with honorary degrees of the National University of Ireland. The five, each exceptional in his or her own field are, Science Editor of The Irish Times, Richard Ahlstrom; historian and President of the Royal Irish Academy, Professor Mary Daly; former British diplomat Sir David Goodall; pioneering scientist Professor Margaret Murnane and Irish rugby legend Paul O'Connell.
Speaking at the ceremony in the Royal College of Surgeons in Ireland, the Chancellor of NUI Dr Maurice Manning congratulated the new graduates and commended their remarkable achievements. He acknowledged the pride felt by NUI in recognising their impact in Ireland and the wider world.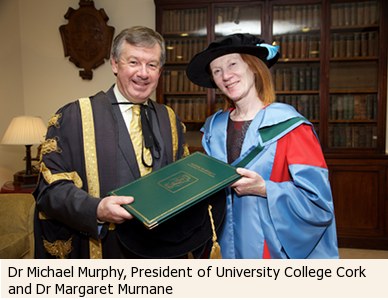 Dr Margaret Murnane, a professor in the Department of Physics and Electrical and Computer Engineering at the University of Colorado, was conferred with the honorary Degree of Doctor of Science for her pioneering accomplishments and distinction in the sciences. Dr Michael Murphy, President of University College Cork, introduced Dr Murnane, who graduated with an MSc in Experimental Science from UCC in 1983. Dr Murphy identified her as one of the leading optical physicists of her generation, and acknowledged her groundbreaking achievements that have transformed the field of ultrafast laser and x-ray sciences.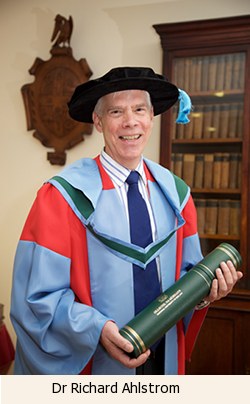 Dr Richard Ahlstrom was also conferred with the honorary Degree of Doctorof Science, for his personal distinction in sciencejournalism and contribution to the public understanding of science in Ireland. As the Science Editor of The Irish Times, he communicates complex scientific research in a form that can be clearly understood by a wide newspaper audience. Introducing him at the ceremony, Professor Donal Leech of NUI Galway commended his entertaining, creative, intelligent and informed manner of communicating scientific research, and the significant contribution he has made to public discourse on the sciences.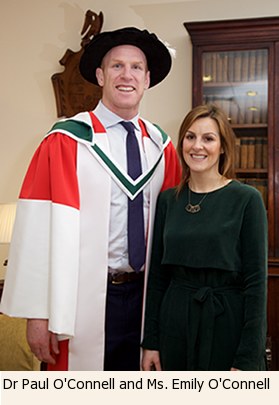 Irish rugby legend Dr Paul O'Connell was conferred with the honorary Degree of Doctor of Arts. NUI is pleased to honour Dr O'Connell for his contribution to Irish life through his outstanding achievements in sport at a local, provincial, national, and international level. Former Ireland and Lions captain Tom Kiernan – also an NUI honorary graduate – introduced Dr Paul O'Connell. Dr Kiernan outlined his illustrious and lengthy career and exceptional record at all levels of rugby, and his status as a positive role model who has used his public position on many occasions to support those most in need.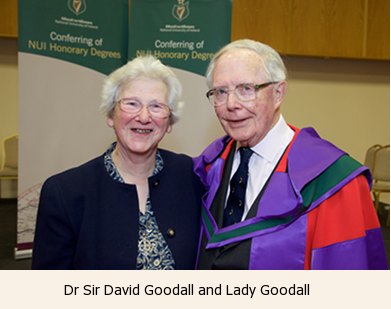 In 2015, the thirtieth anniversary of the Anglo-Irish Agreement, NUI acknowledged Dr Sir David Goodall's contribution to Anglo-Irish Relations with the conferring of the honorary Degree of Doctor of Laws. David Goodall's Grand Canal conversations with Michael Lillis of the Department of Foreign Affairs evolved into the Nally-Armstrong negotiations, which culminated in the Anglo-Irish Agreement signed by Garret FitzGerald and Margaret Thatcher at Hillsborough Castle on 15 November 1985. Introducing David Goodall, Professor Ronan Fanning described his role in an Agreement that marked a moment when, in Dr Goodall's own words, 'an inter-governmental relationship that had been adversarial became co-operative'.




NUI honoured Professor Mary Daly with the conferring of an honorary Degree of Doctor of Literature. Through this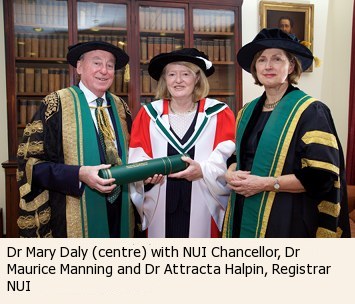 degree, NUI recognises both Professor Daly's distinction as a leading Irish historian and her contribution to Irish public life. In 2014, Professor Daly was elected President of the Royal Irish Academy. She is emeritus professor of history at UCD and a member of the government's Expert Advisory Group on Commemorations. Introducing her, Professor Margaret MacCurtain praised Mary Daly for her dedication to public service, noting that the energetic and innovative strategies she has pursued have brought the work of the Academy to a wider audience.
The 2nd of December is the Charter Day of the National University of Ireland, and since 1908 it has become custom to hold the annual conferring ceremony on or near this date. The doctorate degrees awarded honoris causa are the highest awards of the University, and recognise distinction in a particular field of human endeavour. These five remarkable individuals will join an illustrious list of NUI honorary doctorate recipients, which includes Peter McVerry SJ, Jocelyn Bell Burnell, Brian O'Driscoll, H.E. Anne Anderson, Mary McAleese, Mary Robinson, Brendan Gleeson, and J.R.R. Tolkien, among many others. A full list of previous NUI honorary conferees is available here.