12.06.2017



On Thursday 8 June 2017, the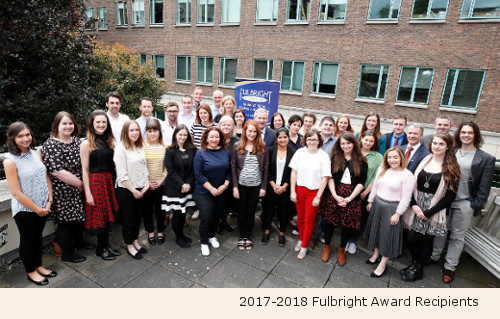 Fulbright Commission in Ireland held its annual Awards Ceremony in the headquarters of the Department of Foreign Affairs and Trade at Iveagh House on St. Stephen's Green in Dublin to announce the winners of the 2017-2018 Fulbright awards. Among this year's 38 Fulbright award recipients were 3 NUI-Fulbright awardees who will travel to the U.S. as visiting researchers as part of their PhD programmes at NUI institutions.

This year the Fulbright Program celebrates 60 years of educational and cultural exchange between Ireland and the US since its establishment in 1957. NUI has been delighted to collaborate with Fulbright in offering awards to NUI graduates to visit the U.S. as part of their studies in recent years. NUI will continue to fund students and graduates of NUI institutions to conduct periods of research in the U.S. in the coming years. Further information on the NUI-Fulbright awards will be made available here and on www.fulbright.ie on 31st August 2017.

At the Awards Ceremony, Minister for Foreign Affairs and Trade, Charles Flanagan TD said: "As Minister for Foreign Affairs and Trade, I am delighted to extend my warmest congratulations to the 38 Irish Fulbright Awardees for 2017 – 18. The Fulbright Commission plays an important role in providing reciprocal opportunities for Irish and US scholars and academics to study, work and experience life in each other's countries."

Dr Dara FitzGerald, Director of the Fulbright Commission in Ireland thanked Fulbright sponsors "the National Lottery, Enterprise Ireland, the Environmental Protection Agency, the Health Research Board, the Higher Education Authority, the Geological Survey of Ireland, the Marine Institute, National University of Ireland, Teagasc, the Maurer School of Law, Penn Law School, The University of Notre Dame, and the University of Montana." He went on to note the "tremendous support from Irish institutions such as University College Cork, University College Dublin, Dublin City University, Royal College of Surgeons, National University of Ireland Galway, Maynooth University, Trinity College Dublin, University of Limerick, The AMBER and INFANT SFI Centres, and the Hugh Lane Gallery."

NUI Chancellor, Dr Maurice Manning, and Registrar, Dr Attracta Halpin, attended the ceremony along with members of the NUI awards team.


NUI-Fulbright Award Recipients 2017-2018
Ms Aoife Cartwright
is a PhD candidate in the Maynooth University Department of Psychology. As a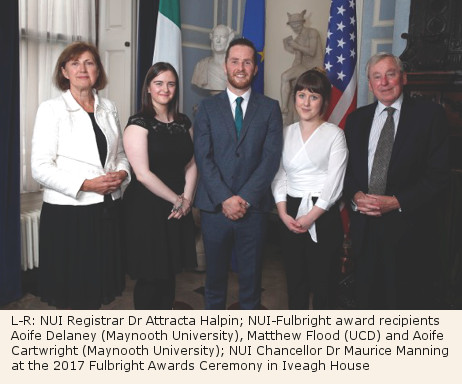 Fulbright-NUI Student Awardee, she aims to better understand the psychological risk factors for sexual assault in young men. During a visit to the Department of Psychological and Brain Sciences at Indiana University, Aoife will research psychophysiological arousal patterns in the context of sexual consent, focusing in particular on scenarios where the consent is resistant or ambiguous.
Ms Aoife Delaney
is a PhD candidate on 'The Programmable City' project at Maynooth University, Ireland. As a Fulbright-NUI Student Awardee based at the University of Massachusetts, Boston, she will research the transformative potential of smart technology for emergency management systems.
Mr Matthew Flood
is a PhD candidate at the Insight Centre for Data Analytics, and the School of Electrical & Electronic Engineering, UCD. He also holds an ME in Biomedical Engineering from UCD. As a Fulbright-NUI Visiting Researcher to the Motion Analysis Laboratory at the Spaulding Rehabilitation Hospital, Boston, Matthew will employ advanced signal processing methods to investigate motor control in individuals with Parkinson's disease using wireless sensing technology.