08.06.2017



At a ceremony  held in the French Ambassador's Residence in Dublin on 30 May 2017, Dr James J. Browne, President of NU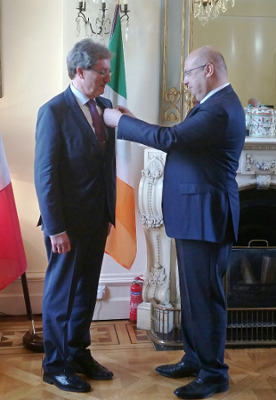 I Galway and NUI Pro-Vice-Chancellor was invested as a Knight of the Order of Academic Palms (Chevalier des Palmes Académiques). The honour was awarded in recognition of Dr Browne's lifelong connections with France and the work he has done in promoting strong links between NUI Galway and French universities through the Erasmus+ programme and through major research partnerships.
Accepting the honour, Dr Browne commented on the close cultural and commercial ties of long standing between France and the West of Ireland, the influence of French republican values on Ireland not as reflected in the Republic of Connacht and the importance to the Irish economy of the French companies based in Galway. As an engineer, he said that he had always been greatly impressed by the genius, technical brilliance and artistry of French engineering apparent in French civil engineering, its manufacturing, its cars, its trains and its aeronautical industry. In his view, this reached a particularly high point aesthetically and technnically with Concorde. 
Congratulating Dr Browne, NUI Chancellor Dr Maurice Manning said that this was a wonderful honour for Dr Browne and for NUI Galway. He noted that in the context of Brexit, the social, cultural and economic ties between Ireland and France had gained increased importance. He paid tribute to Ambassador Jean-Pierre Thébault who will be leaving Ireland shortly for his outstanding contribution to Franco-Irish relations during his term in Ireland.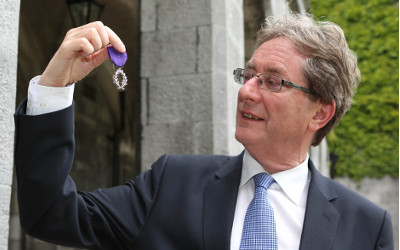 Originally a decoration founded by Emperor Napoléon in 1808 to honour eminent members of the University of Paris, the Chevalier des Palmes Académiques is a national order of merit of France for distinguished academics and figures in the world of culture and education.