04.12.2017

Diary Note:
NUI to hold Seminar on International Student Mobility and
launch 2018 NUI Awards
Tuesday 5 December 2017 at 2.00 pm
College of Anaesthetists of Ireland, 22 Merrion Square.
Press Call at 1.30 pm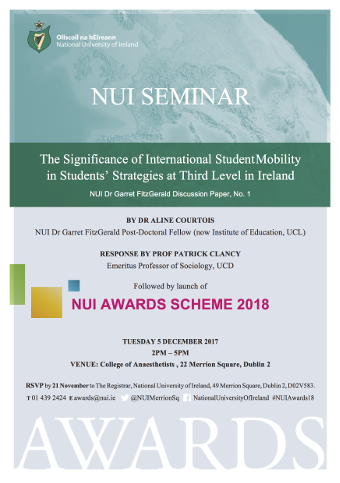 The National University of Ireland will hold a Seminar to showcase the research of former NUI Dr Garret FitzGerald Post-Doctoral Fellow, Dr Aline Courtois: "The Significance of International Student Mobility in Students' Strategies at Third Level in Ireland". While a number of other studies have focused on the experience of international students coming to Ireland to study, this is the first major study to focus on the experiences of Irish students going abroad to study in a context where Irish higher education institutions are encouraged to increase outgoing numbers.
Dr Courtois's research paper can be found here.

This will be followed by the launch of the 2018 NUI Awards Scheme, by NUI Chancellor, Dr Maurice Manning. The launch will showcase a range of undergraduate and graduate level scholarships and awards to be offered to students and graduates of NUI member institutions in 2018.
RSVP
awards@nui.ie
Further information from:
Dr Attracta Halpin
Registrar, National University of Ireland
49 Merrion Square, Dublin 2.
E-mail registrar@nui.ie
T: 353 (0)1 4392424
Twitter: @NUIMerrionSq
Facebook: National University of Ireland
#NUIAwards18