14.12.2020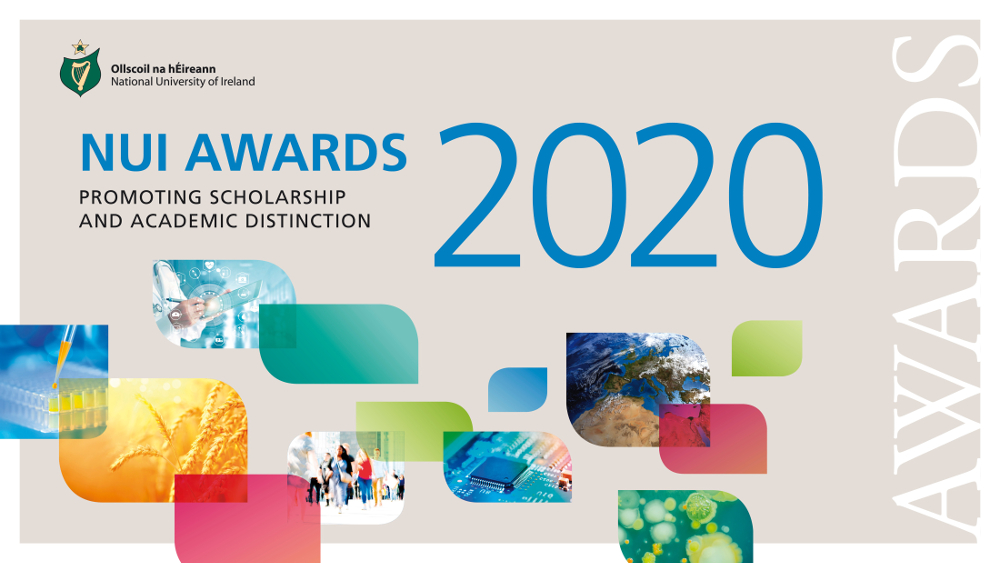 Click image to enlarge
2020 NUI Awards Ceremony
Monday, 14 December 2020
The National University of Ireland is pleased to announce that in 2020, it will have granted awards to a value in excess of €1 million to NUI students, graduates, staff and member institutions across the NUI federation. Most of the awards will be presented to NUI students and graduates at this year's annual NUI Awards Ceremony. This virtual event will be launched on the NUI website on Monday 14 December 2020 at 2:00pm.
The annual Awards ceremony is a great occasion and a highlight in the NUI calendar. It is a welcome opportunity to highlight and celebrate the achievements of those receiving awards in 2020. Having overcome significant disruption to their studies or research as a result of the public health emergency, they have gained high academic distinction. NUI takes this opportunity to give public recognition to their exceptional achievements. NUI Awards are offered across all academic disciplines and at all academic stages. Through its awards at post-doctoral and doctoral level, NUI will support research in many diverse fields across the Humanities and Sciences. At undergraduate level, NUI is particularly proud to award the NUI Dr H H Stewart Medical Scholarships and Prizes in 2020. This year, many of the those awarded prizes are recent medical and health sciences graduates, who are now working on the front lines against the COVID-19 pandemic.
Opening the virtual ceremony Dr Attracta Halpin, NUI Registrar, has confirmed that while 2020 has been 'a uniquely challenging year, it has not lacked in sparkle and brilliance' During his address the NUI Chancellor, Dr Maurice Manning, has highlighted NUI's long tradition of academic competition and recognition of academic distinction which spans over a century. In particular, he has paid tribute to the 139 awardees in 2020 acknowledging their 'very real and hard-won achievements' at a time when 'the world as we know it has been turned upside down by the health emergency'. He added that this occasion was a way of 'celebrating and showcasing the highest levels of academic achievement across the federal university'.
Included in the 2020 winners
Shruti Rajgopal – Travelling Doctoral Studentship in Early Modern History
Shruti Rajgopal is a PhD researcher in UCC. Her research aims to introduce early modern India to the field of Neo-Latin scholarship where she will study Latin texts written during the Renaissance that describe India, or that were written in India.
Niall Kennedy – Travelling Doctoral Studentship in Theoretical Physics
Niall Kennedy is a doctoral researcher in Theoretical Physics in UCC. His research focuses on visualization of electronic quantum matter at atomic scale using some of the world's most advanced scanning microscopes.
Aphrodite Papachristodoulou – NUI E J Phelan Fellowship in International Law
Aphrodite Papachristodoulou is a doctoral researcher in UCD. Against the backdrop of the European migration crisis, her research examines the relationship between the law of the sea and human rights.
Dr Eugene Costello – NUI Post-Doctoral Fellowship in the Humanities
Dr Eugene Costello, a graduate of NUI Galway and UCC, is an archaeologist and historian. His fellowship will focus on 'marginal' upland communities in Ireland and Sweden. His research will examine how farmers adapted to growing market demands for meat and dairy, and determined their role, as food suppliers, in the development of commercial urban centres.
Background information
The NUI Awards ceremony is held annually and provides an opportunity for the public acknowledgement and celebration of excellence in scholarship. The event is usually held in a city centre location but in this year of Covid-19, the Chancellor of the University, Dr Maurice Manning, will preside over a virtual ceremony where 139 students and graduates will be presented with a range of scholarships and awards.
These awards are competed for annually by students and graduates of NUI constituent universities - UCC, UCD, NUI Galway and Maynooth University - and other NUI member institutions including RCSI, NCAD and St. Angela's College, Sligo.
Students from the overseas institutions, namely RCSI & UCD Malaysia Campus (RUMC, formerly known as Penang Medical College, Malaysia); Royal College of Surgeons in Ireland – Medical University Bahrain and Perdana University, Malaysia are also considered for the NUI Awards and are represented among the 2020 award winners.
Further information from:
Dr Attracta Halpin
Registrar
National University of Ireland
49 Merrion Square
Dublin 2, D02 V583
Ph: 01 4392424
www.nui.ie
Twitter: @NUIMerrionSq
« Previous