11.04.2022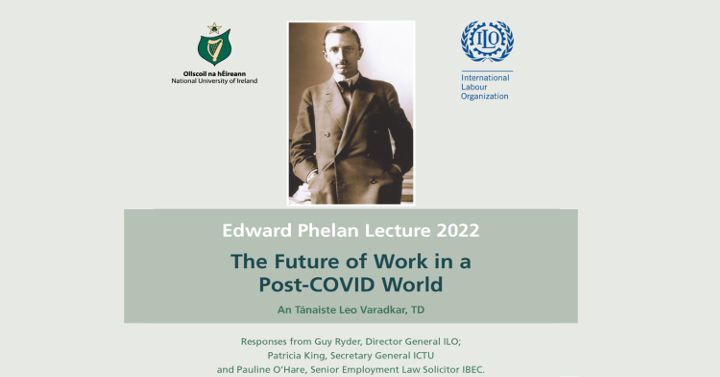 Edward Phelan Lecture
National University of Ireland/International Labour Organization
12th April 2022
The National University of Ireland and the International Labour Organization have collaborated in organising the 2022 Edward Phelan Lecture. After a hiatus due to the COVID-19 pandemic, NUI and ILO are delighted once to again hold this event to discuss "The Future of Work in a Post-COVID World".
Both organisations feel greatly honoured that Tánaiste Leo Varadkar has agreed to give the lecture. There will be responses from Guy Ryder, Director-General of the ILO; Patricia King, Secretary General of ICTU and Pauline O'Hare, Senior Employment Law Solicitor of IBEC.
Born in Ireland, Edward Phelan had a distinguished career at the International Labour Organisation. He was official advocate of the ILO Project at the Paris Peace Conference of 1919, became its fourth Director in 1941 and Director General under its new constitution in 1946.
He was the innovator of the ILO "tripartite" formula which forms the basis of representation at International Labour Conferences. Each country's delegation includes not only Government delegates, but also representatives of workers' and employers' organizations, a model for social partnership.
NUI has continuing reason to honour Edward Phelan who, with his wife Fernande, left a generous bequest to the University. Among other things, this funds the prestigious NUI E J Phelan Fellowship in International Law.
Anyone who wishes to attend the lecture can call (01) 439 24 24 or email
registrar@nui.ie
for details.