05.05.2022


Thursday 5th May 2022 Royal College of Physicians in Ireland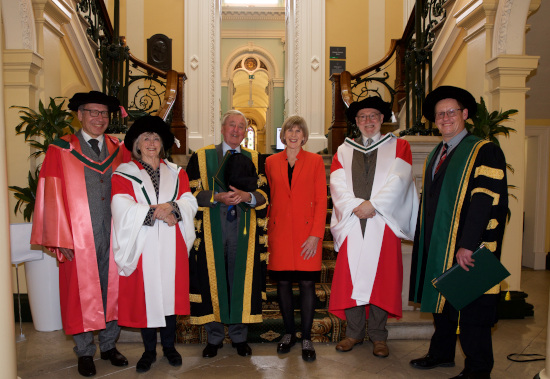 Click image to enlarge
This year's National University of Ireland honorary degree conferring ceremony took place on Thursday the 5th May 2022 in the Royal College of Physicians of Ireland, Kildare Street, Dublin 2 at 4.00 pm.
At the ceremony, the Chancellor of the University, Dr Maurice Manning, conferred honorary degrees on the following individuals who have made exceptional contributions in their respective fields:
Dermot Bolger
For his contribution to literature through his novels, plays and poems
DLitt
Frank Gannon
For his contribution to scientific research and leadership
DSc
Marie Heaney
In recognition of her work as an author, editor and critic
DLitt
Axel Klein
For his contribution to music and his research of Irish musical history
DMus
Dermot Bolger
Born in Finglas in 1959, Dermot Bolger is a poet, novelist and playwright. His fourteen novels include The Journey Home, The Family on Paradise Pier, The Lonely Sea and Sky, and An Ark of Light. His many plays include his debut, The Lament for Arthur Cleary, which received the Samuel Beckett Award; The Ballymun Trilogy (charting four decades of life in a working-class suburb); and two recent productions at the Abbey Theatre, Last Orders at the Dockside and a stage adaptation of Joyce's Ulysses. His poetry collections include The Venice Suite in 2012 and Other People's Lives which has just been published. As a teenage factory worker in 1978, he founded Raven Arts Press, which championed a new generation of Irish writers. In 1992 he co-founded New Island Books with Edwin Higel. New Island is now regarded as among Ireland's premier independent publishers of literary fiction and non-fiction. Bolger devised the bestselling collaborative novels, Finbar's Hotel and Ladies Night at Finbar's Hotel, and edited The Picador Book of Contemporary Irish Fiction. In 2012 he was named Commentator of the Year at the NNI Journalism Awards and in 2021 he received The Lawrence O'Shaughnessy Award for Poetry.
Frank Gannon
Born in Sligo, Frank Gannon received his B.Sc. from UCG in 1970 and PhD from the University of Leicester in 1973. Following a Post doc at the University of Wisconsin (Madison) (where he started a life's work on breast cancer), he moved to the University of Strasbourg France (1975). In 1981, he returned to UCG and initiated Ireland's first M.Sc. in Biotechnology course and expanded his research group. In 1987, he established and was director of the National Diagnostics Centre. He moved to Heidelberg, Germany in 1994 as the Executive Director of the European Molecular Biology Organisation. In 2007 he was appointed Director General of Science Foundation Ireland. In 2011, he moved to Brisbane, Australia as the Director of QIMR Berghofer Medical Research Institute. He retired in 2020.
He has published over 300 articles (including 150 editorials), that are cited over 18,000 times. He is a fellow of the RIA, the Australian Academy of Health and Medical Sciences, and other specialist academies. He has been on the advisory Boards of multiple institutes worldwide. He has been awarded Honorary Doctorates from the University of Szeged (Hungary), the University of Queensland (Australia) and Queens University Belfast.
Unfortunately, Dr Gannon was, at the last minute, unable to attend the conferring, but he attended virtually and his sister Lucia Shelly accepted the degree on his behalf.
Marie Heaney
Marie Heaney (nee Devlin) was born in County Tyrone. She graduated as a teacher from Saint Mary's Training College in Belfast. She was married to poet Seamus Heaney and has three children. The family moved from Belfast to Wicklow in 1972 and to Dublin in 1976 where she still lives.
Marie Heaney has a special interest in Irish mythology and has written Over Nine Waves, A Book of Irish Legends and The Names Upon the Harp, a collection of Irish Legends for children, illustrated by P.J. Lynch.
She has edited a number of collections of poetry and prose and has written scripts for radio and television. In 1998 she graduated from University College, Dublin with an M.Phil in Irish Studies. She is a patron of Poetry Ireland.
Axel Klein
Axel Klein is a German musicologist who has been researching Irish musical history for 35 years. After studies in Hildesheim and Dublin, his published doctoral thesis of 1996 was the first book-length study in any language about twentieth-century Irish art music and remained so for twenty years. Based in Frankfurt, he has in the meantime published four monographs and co-edited two further volumes, besides numerous contributions to music encyclopaedias, books, journals, academic websites, and international conferences all over Europe and the east coast of the United States. Current projects include the first history of Irish music in more than a hundred years, to be completed in about two years, and a biography of James Joyce's favourite composer of songs, Geoffrey Molyneux Palmer.
Klein's research frequently unveils largely unknown personalities, either in Ireland or with Irish roots elsewhere, that contribute to understanding the complex network of musical relations and mutual influences that have shaped musical art in Ireland. As a sympathetic outsider examining Irish music from an external perspective, he often argues for more public recognition in Ireland for its own history of art music, the perception of which is lagging considerably behind that of other forms of cultural expression.
NUI is delighted to continue its proud history of honouring those who advance knowledge and the cultural and literary heritage of Ireland by conferring these degrees.
Dr Attracta Halpin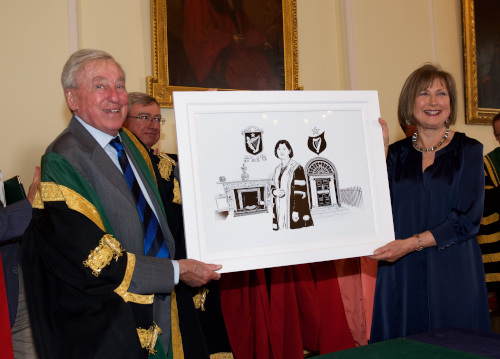 Click image to enlarge
NUI also took this opportunity to mark Dr Attracta Halpin's contribution as Registrar from March 2004 until December 2021. The eighth registrar of NUI, she originally started in 49 Merrion Square as Assistant Registrar in 1997. She has spent most of her career in higher education management. Before coming to NUI, she was Assistant Registrar for Business Studies and Humanities at the then National Council for Educational Awards. She has also worked as a civil servant and as a government advisor on cultural policy. She is a graduate of University College Dublin, Trinity College Dublin, and the University of London.
Further information from:
Dr Patrick O'Leary
Registrar
National University of Ireland
49 Merrion Square
Dublin 2, D02 V583
Ph: 01 4392424
www.nui.ie
Twitter: @NUIMerrionSq
« Previous