06.07.2022

CONVOCATION
Notice of Election Meeting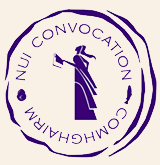 TO ELECT EIGHT MEMBERS OF CONVOCATION TO THE NUI SENATE
NOTICE is hereby given that the current period of office of the Senate of the National University of Ireland will expire on Wednesday 31st October 2022.

MEMBERS OF NUI SENATE ELECTED BY CONVOCATION
In accordance with Section 45(2) of the Universities Act 1997, the composition of the Senate includes, 'eight members of the Convocation elected by Convocation, four of whom shall be women and four men'.
Convocation consists of the Chancellor, the Vice-Chancellor, the Members of Senate, the Professors and Lecturers and the Graduates (degree holders) of the University.

DATE OF ELECTION MEETING
The Election will be held at a Meeting of Convocation to take place in the National University of Ireland, 49 Merrion Square, Dublin 2, on Wednesday 5th October 2022 at 10 o'clock a.m. The poll will remain open for one hour.

NOMINATIONS
Each candidate shall be nominated by a nomination paper, which shall be signed by at least two members of Convocation and shall be received by the Clerk of Convocation, 49 Merrion Square, Dublin 2, on or before Thursday 28th July 2022.
The nomination paper shall state the name and address of the person nominated and, in case that address is not in Ireland, shall state an address in Ireland, and shall include the written consent of the person nominated.
A Form of Nomination may be obtained on application to the Clerk of Convocation at 49 Merrion Square, Dublin 2, or may be downloaded from the link below.
Download Form of Nomination

Form of Nomination
Notice of list of nominees
In accordance with Statute 228, Chapter III (6)
'If the number of persons who have been duly nominated for election by Convocation be greater than that which Convocation is entitled to elect, the Clerk of Convocation shall, not less than eight weeks before the Election Meeting, give notice by advertisement in such newspapers or other periodicals as the Chairman and the Clerk of Convocation may determine, setting out the date of the Election Meeting, and in dictionary order the names of the persons nominated, and informing the members of Convocation that they may vote either in person at the Election Meeting or by post, and that a voting paper shall be sent only to those members who shall have applied for one in writing before a specified date'.

APPLYING IN WRITING FOR A VOTING PAPER
Members of Convocation who wish to vote in the Convocation Election must apply to the Clerk of Convocation in writing for voting papers no later than Friday 23rd September 2022.
Applications for voting papers must be in writing. An application form is available for downloading below.
*Applications may be made by post to the address below or by email to elections@nui.ie.
To receive your voting papers, the following information must be provided:
•           Full name (forename[s] and surname) at registration
•           Any other form of name used (e.g. Irish, single, married etc)
•           Date of birth
•           NUI degree(s) and other NUI qualification(s)
•           Year(s) of conferring(s)
•           NUI institution(s) where conferred
•           Current address
•           Previous address (for identification purposes)
Download Application For Voting Paper Form

Voting Paper Application Form
Helen Scanlon
Clerk of Convocation
National University of Ireland
49 Merrion Square
Dublin 2

« Previous