02.11.2010

At a ceremony today in Royal Hospital Kilmainham, the Chancellor of the National University of Ireland, Dr Maurice Manning conferred the honorary degree of Doctor of Laws (LLD) on Lord Patten of Barnes, Chancellor of Oxford University. Introducing Lord Patten, Dr Hugh Brady, NUI Vice Chancellor and President of UCD said that ' his Chairmanship of the Independent Commission on Policing for Northern Ireland, set up as part of the Good Friday Agreement, ….perhaps more than any other impressive contributions, earned Chris Patten the gratitude and respect of the people of Ireland. The Commission, which reported in 1999, tackled the highly contentious and difficult issue of policing in a divided society. Chris Patten is a true friend to Ireland and the peoples of Northern Ireland' .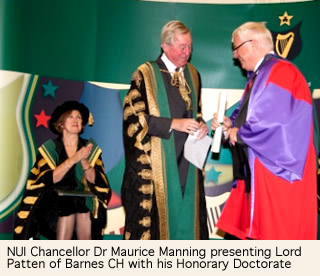 Dr Brady referred to Lord Patten's role as the last British Governor of Hong Kong between 1992 and 1997, when he oversaw the transfer of sovereignty from the UK back to China at the end of the 99-year lease. He also mentioned Chris Patten's important contribution to the development of the European Union from 1999, when he was appointed EU Commissioner with responsibility for External Relations, a major portfolio as the Union sought to enhance its role and presence in the world. Noting his deep interest in international politics and the challenges facing the contemporary world, Dr Brady referred to three books written by Chris Patten in the recent past, his 1998 volume East and West, Summarising Lord Patten's contribution, Dr Brady said 'In an extraordinary career spanning British politics, international politics, EU politics and British-Irish relations, Chris Patten has actively engaged with the problems of our age and contributed greatly to addressing them. ….Statesmen like Chris Patten are needed in the unsettled and unsettling first decades of the 21st century'.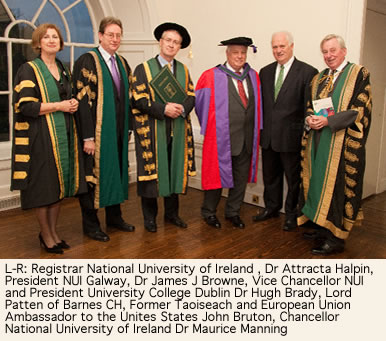 Lord Patten is currently Chancellor of the University of Oxford. Following the conferring, Lord Patten presented the address, "Leadership and Conscience from Cardinal Newman to the Papal Visit" to the assembled audience.