19.11.2010

Royal Hospital Kilmainham, Tuesday 23 November 2010 at 2.30 p.m.
'NUI Celebrates Academic Achievements with the Presentation of Scholarships and Awards worth €640,000'.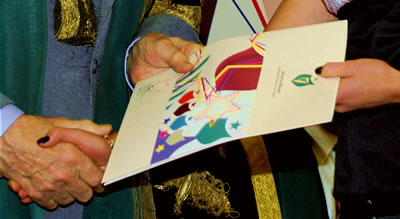 The National University of Ireland will hold its annual awards ceremony to celebrate the academic achievements of its graduates and students. At a ceremony in the Royal Hospital Kilmainham, the Chancellor of the University Dr Maurice Manning will present NUI Scholarships and Awards worth €640,000.
 
In 2010, over one hundred students and graduates from the constituent universities and recognised colleges of the federal university will receive awards. UCD, UCC, NUI Maynooth, NUI Galway, RCSI and NCAD will be represented in the award winners.
 
Among the awards to be presented are four Post-Doctoral Fellowships, valued at €40,000 each, fourteen NUI Travelling Studentships in the Humanities and the Sciences and the NUI E J Phelan Fellowship in International Law.
 
Other awards include the Dr H H Stewart Literary and Medical Scholarships, the Dr Mary L Thornton Scholarship in Education of €5,000, the Denis Phelan Scholarship of €14,000, the Mansion House Fund Scholarships and the NUI Art and Design Award.