02.12.2008
Centennial Conference of the National University of Ireland:
Leading Universities in the Twenty-First Century
This major conference, hosted by the NUI, took place in the Conference Centre of Dublin Castle, 1st to 3rd December 2008. The conference was timed to coincide exactly with the 100th anniversary of the foundation of NUI (2nd December 1908), and was a pivotal event in a year of centenary celebrations.
The importance of the occasion was underpinned by the presence of the President of Ireland, Her Excellency Mary MacAleese, for the formal opening of the conference.
The conference attracted a large attendance from academics within the NUI system and from other universities both in and outside of Ireland. In his welcome message in the conference programme, The chancellor, Dr Garret FitzGerald noted that the university can look back with pride on the achievements of a century. Regarding the theme of the conference, he remarked: 'For our centennial conference we wanted to choose a theme of major relevance to universities today. We decided on university leadership recognising that the quality of its leadership at various levels is a key factor in the success of any university.'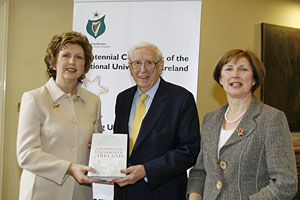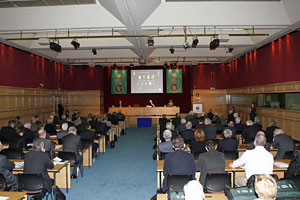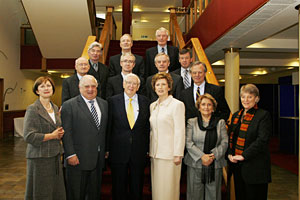 The conference programme, giving the topics for each of the seven sessions and biographical material about the speakers and presenters, and where available their powerpoint presentations, may be downloaded below.
NUI Centenary Conference 2008
Leading Universities in the Twenty-First Century
Presentations & Programme
NUI Conference 2008 Programme
Session 1
Key Issues for University Leaders in the twenty-first Century
Session 2
Qualities of University Leaders in the Twenty-First Century
Session 3
Extending the Boundaries, Communicating the Understanding, Transmitting the Culture: Academic Leadership in the Knowledge Society
Session 4
Structures, Responsibilities, Relationships: Towards Effective University Governance
Session 5
Engagement in the Public Sphere: University Leadership and the Wider Community
Session 6
Transforming Higher Education Systems: Leading Change in the University
Session 7
World-Class Universities: Reputation Ranking and Sustainability