24.06.2010


On Thursday 24 June 2010, a new publication Irish Feminisms 1810 -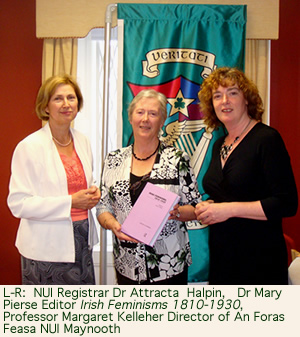 1930 (5-Volume Set) was launched by Professor Margaret Kelleher, in the Phelan Building of NUI at 49 Merrion Square.
 
Edited by Dr Mary Pierse (University College Cork) Irish Feminisms 1810 - 1930 the history of Feminisim series makes key archival source material readily available to scholars, researchers and students of women's and gender studies, women's history and women's writing, as well as those working in allied and related fields.
Selected and introduced by expert editiors, the gathered materials are reproduced in facsimile, giving users a strong sense of immediacy to the texts and permitting citation to the original pagination.

This new title in the series brings together a unique selection of the multiple feminisims articulated by Irish writers between 1810 and 1930, a 'long Victorian' period. The five volumes foreground a multiplicity of beliefs and attitudes from novels, poetry, short stories, newspaper and journal articles and essays, both by relatively unknown and by more celebrated writers (such as Lady Gregory, Lady Wilde, and the Parnells).