23.11.2010

Royal Hospital Kilmainham, Tuesday 23 November 2010 at 2.30 p.m.
The National University of Ireland today celebrated the academic achievements of its graduates and students at its annual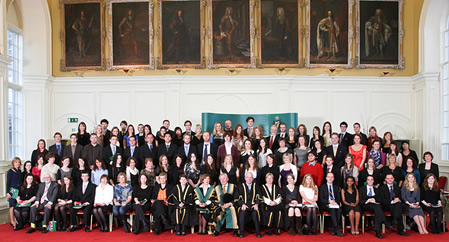 awards ceremony held in the Royal Hospital Kilmainham. Presenting awards with a total value of €640,000, the Chancellor of the University, Dr Maurice Manning remarked that 'at a time when many other kinds of investments have proven to be worthless, we are satisfied that this is money well spent and will yield good returns for a long time'. Dr Manning congratulated the award winners on their achievements.
Referring to current challenges facing the country, Dr Manning said that 'there is a deep sense of disappointment in Ireland today, disappointment with the leadership of the country, disappointment with institutions that were previously revered, with structures that previously served us well, disappointment at the state of the country. There is a feeling that our new impoverishment will be a permanent condition, that there will be few opportunities in Ireland for our young talented graduates. There is a fear that as in previous generations they will become economic migrants and that not only their talents, but also, their personal qualities, their charm, wit and vitality will be lost to the country'.

Striking a note of optimism, Dr Manning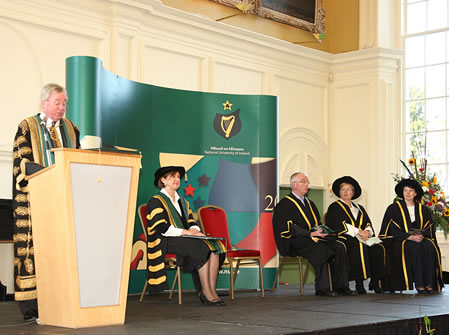 remarked that 'stepping back from the situation, we know from history that this current crisis will end, that things will get better and that we will recover'. Dr Manning expressed the view that Ireland's universities will play an important part in Ireland's recovery noting that 'As institutions, they have continued to deliver for Ireland by advancing research and spawning innovation; supporting industry, business and the public service; producing annually increasing numbers of graduates well capable of contributing to the economic, social and cultural life of the country. Their standing internationally has continued to rise'.
 
He called on the award winners to believe that they too 'can and should be part of Ireland's recovery. I don't just mean its economic recovery though that is of course the most pressing need. I also mean the restoration of Ireland's public space, the re-formulation of its public policies and the re-structuring of its public institutions and services. I would urge you today to believe that you can play your part in the regeneration of this country. You can be agents for the change that must take place so that Ireland can re-emerge from the current morass and hold its head high again as a confident, self-sustaining and well-run country'.
 
In 2010, over one hundred students and graduates from the constituent universities and recognised colleges of the federal university received awards. UCD, UCC, NUI Maynooth, NUI Galway, RCSI and NCAD were represented among the award winners. The value of the NUI Awards in 2010 is of the order of €640,000.