19.06.2016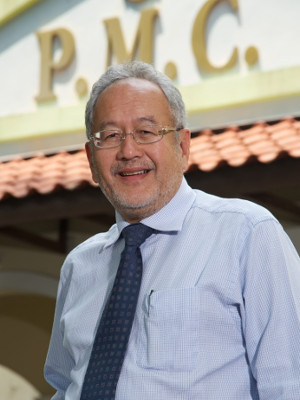 The Chancellor of the National University of Ireland, Dr Maurice Manning, will today confer the honorary degree of Doctor of Medicine (DMed), on Professor Amir S Khir at a graduation ceremony in Penang Medical College (PMC). Professor Khir (pictured) is receiving the DMed in recognition of his contribution to medical education and his role in the successful development of Penang Medical College since its foundation twenty years ago.  
Professor Khir was the Foundation Professor of Medicine at PMC, where he was elected Dean in 2004 and President and Dean 2013-2016.
In congratulating Professor Khir on the success of Penang Medical College, Dr Manning has remarked that 'PMC can be seen as an effective vehicle for strengthening social and cultural bonds between Ireland and Malaysia and for the promotion of mutual understanding and the acceptance of difference. In today's world, these kinds of bonds are particularly important'.
Penang Medical College celebrates its 20th anniversary in 2016. The College was established by the Royal College of Surgeons in Ireland (RCSI) and University College Dublin (UCD), in collaboration within NUI, to provide medical students with the unique opportunity of pursuing their studies and training in both Dublin and Penang. Since its establishment, student numbers have increased tenfold and over 1,400 doctors have graduated from the College with NUI degrees. Professor Khir has played a pivotal role in developing this medical programme during this period.
Professor Khir received his medical education in Edinburgh University and graduated with MB ChB in 1973 followed by training in Internal Medicine in Edinburgh, Sheffield and Aberdeen, UK. He obtained his MRCP (UK) in 1977, was elected fellow to the Royal Colleges of Physicians of Edinburgh (1990), and in Ireland (FRCPI) in 2004.
Professor Amir has been an active researcher and clinician throughout his career, principally in the field of Endocrinology, Diabetes and Metabolism. He has published and acted as reviewer in many international journals.  He was Founding President of the Malaysian Osteoporosis Society and has served as Vice-Presidents of the Malaysian endocrine and diabetes professional bodies. In 2000, he was founder member of the Joint Penang Ethics Committee and has been its chairman for 14 years.