20.06.2016
The Registrar of the National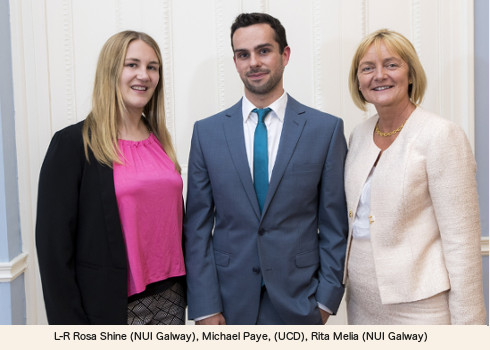 University of Ireland (NUI), Dr Attracta Halpin, has congratulated Rosa Shine, Michael Paye and Rita Melia - the 2016 recipients of Fulbright-NUI Student Awards, on their prestigious awards.

The three recipients were part of a cohort of thirty-nine 2016-17 Irish Fulbright Awardees announced by the US Ambassador to Ireland, Kevin O'Malley and Ireland's Minister of State for Gaeltacht Affairs & Natural Resources, Seán Kyne TD, at a ceremony in the US Ambassador's Residence in Dublin on Thursday, 16th June 2016.
The Fulbright Awards have been granted annually since 1957 by the Irish and US governments, providing Irish students, scholars, and professionals the opportunity to study, research or teach at top American institutions. These all-discipline awards facilitate knowledge-sharing and cultivate connections between Ireland and the US. The Fulbright Program is run in 155 countries worldwide, giving awardees access to an ever-growing network of international expertise.
The daughter of Fulbright-NUI Student Awardee Rita Melia, Ruth Melia was also granted a Fulbright award on the night making them the first mother and daughter pair to be granted Irish Fulbright Awards in the same year.
This is the third year that Fulbright-NUI Student Award has been offered to PhD students based in NUI institutions to travel to the US as visiting researchers. Applicants in the humanities, social sciences and sciences were subject to a rigorous selection process where research and study objectives were judged based on their potential to drive the Irish knowledge economy.
Ms Rita Melia is a Doctoral Researcher at UNESCO Child & Family Research Centre, NUI Galway, an early childhood specialist with Early Childhood Ireland, and an Irish Research Council Scholar. As a Fulbright-NUI Student Awardee at Project Zero in the Harvard Graduate School of Education Boston, Rita will explore the preschool educators image of the child as a learner.

Mr Michael Paye is a PhD candidate in the School of English, Drama and Film at UCD, working on the literary depiction of fishery collapse and oil boom. As a Fulbright-NUI Student Awardee to Princeton University, Michael will complete a study of the correlation between fishery collapse and oil pollution in the literatures of Nigeria and Newfoundland in order to reveal the particular aesthetics and forms through which environmental crisis is coded across the Atlantic fish and oil frontier.

Ms Rosa Shine graduated from NUI Galway in 2014 with a degree in Biomedical Engineering. She is currently a PhD candidate in the Biomechanics Research Centre, NUI Galway. As a Fulbright-NUI Student Awardee she will be performing advanced experimental testing on bioresorbable polymeric stents at the Massachusetts Institute of Technology.

Ms Shine also received an NUI Travelling Studentship Award in 2015.