17.11.2017

Royal Hospital Kilmainham, Tuesday 14 November 2017

The National University of Ireland hosted its annual Awards Ceremony in the Royal Hospital Kilmainham on Tuesday 14 November 2017, at which Dr Maurice Manning, Chancellor of the University, presented awards to NUI students and graduates from across the NUI federal system.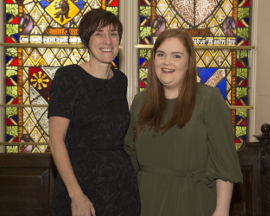 Eimear Donoghue, Dr H H Stewart Prize in Nursing, St. Angela's College, Sligo with Dr Michele Glacken, Head of Dept of Nursing, Health Sciences and Disability Studies, St. Angela's College, Sligo
At the Ceremony, NUI honoured scholars of distinction at every stage of their academic studies, from undergraduates to senior scholars well established in their fields of expertise. Speaking at the event, Dr Manning congratulated the awards recipients and commented that "universities are key institutions in today's society, central to human progress and to social, economic and cultural advancement," and therefore that "today's event has an importance beyond the confines of this Great Hall and for a wider community than are here to participate in the proceedings."
He went on to say that the success of the 2017 NUI Awards recipients "is the result not only of exceptional ability but of that combined with intense effort, a passion for their chosen field, and a keen commitment to the pursuit of knowledge."
At the Ceremony, awards were presented to over one hundred and thirty students and graduates from the NUI constituent universities, recognised colleges and other NUI member institutions.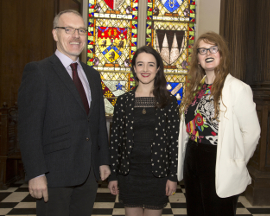 An Dr Lillis Ó Laoire, Ceann Roinn na Gaeilge, OÉG le Róisín Nic Aodhgáin, OÉG, buaiteoir Duais Chiste Theach an Ardmhéara sa Ghaeilge agus Laoighseach Ní Choistealbha, OÉG, buaiteoir Chéad Duais an Dr T K Whitaker sa Ghaeilge
UCD, UCC, Maynooth University, NUI Galway, RCSI, St Angela's College, Sligo and NCAD were all represented, as were the NUI Overseas Campuses, namely Penang Medical College, Malaysia; Royal College of Surgeons in Ireland – Medical University Bahrain and Perdana University, Malaysia.
Among the awards granted in 2017 were the NUI Irish Historical Research Prize which has been awarded since 1922. The 2017 Prize was awarded to Professor K. Theodore Hoppen for Governing Hibernia British Politicians and Ireland 1800-1921 published by Oxford University Press in 2016. Professor Hoppen delivered a lecture entitled Governing Hibernia and the Making of a Historian of Ireland on Monday 13 November 2017 in the Royal College of Surgeons in Ireland of which a publication will be produced by NUI shortly. In addition to this, one Post-Doctoral Fellowship was awarded this year in the Sciences while twelve NUI Travelling Studentships were awarded to support NUI graduates undertaking doctoral research in a range of disciplines in the Humanities and the Sciences. One of this year's Studentships was awarded in Politics and International Relations in honour of former NUI Chancellor, the late Dr T K Whitaker.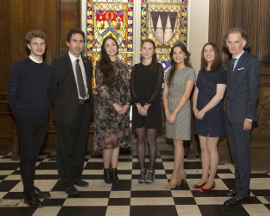 Msr. Guillaume Ravier, Academic Project Manager and Dr Marc Daumas, Scientific & Academic Attaché, French Embassy in Ireland with recipients of 2017 French Government Medals, Sinéad Magner, Maynooth University; Morgane Monteuuis-Dréval, Maynooth University; Elizabeth Kelleher, University College Cork; Nora Baker, NUI Galway; Dr Martin Howard, Head, School of Languages, Literatures and Cultures, UCC.
Duaiseanna an Dr T K Whitaker sa Ghaeilge, for master's level students of Irish were also awarded for the first time this year. A range of scholarships and prizes were also presented to undergraduate students.
In 2017, NUI will have granted awards to a value in excess of €1 million to NUI students, graduates, staff and institutions.
The 2018 NUI Awards Scheme will be launched at an event on 5 December 2017.

Please click here for more information 2018 NUI Awards Scheme Launch

Uversity Conferring

The Ceremony also played host to the third conferring of Masters' degrees on students of Uversity, the newest recognised college of NUI. Six students were conferred with the Degree of Master of Arts in Creative Process at the Ceremony. Dr Maurice Manning congratulated the newest NUI graduates and said that he hoped that "what has been achieved in this highly innovative project will, I hope, provide a model that in time others will seek to replicate." The Chancellor went on to welcome the representatives of Uversity and its partner institutions to the ceremony. He said, "the conferring of Masters' degrees on students of Uversity – this institution's third conferring – shows a great idea coming to fruition.
2017 Uversity graduates with Danny O'Hare, Chair of Uversity; Ms Colleen Dube, CEO of Uversity; NUI Chancellor, Dr Maurice Manning and Registrar, Dr Attracta Halpin
The concept of Uversity is a simple one: as a nation, Ireland continues to have international impact in the arts, literature, theatre and other fields of creativity. Why not make the best our universities and other higher education institutions have to offer in these fields available to international students? The model adopted has led to a unique partnership involving all the universities on the island, with the Institutes of Technology and other institutions." This year's graduates, who came to Ireland from different parts of the USA and further afield to undertake the masters degree programme with Uversity are Emma Austin, Laura Cummins, Luisa Geisler, Michelle Harder, Daniel McNamara and Ana Vallejos Cotter.
Dr Maurice Manning concluded the 2017 Uversity Conferring by congratulating the graduates of Uversity saying, "your understanding of the creative process and your practical experience of creativity, whether in writing, theatre, media or other creative fields, will have been greatly enhanced over the past year. You have all been highly successful on the MA programme. I feel sure that you will go on from here and do great things."
Further information on the NUI Awards can be found on http://www.nui.ie/awards/.
You will also find information on Twitter at @NUIMerrionSq , #NUI and #NUIAwards17.

For further information, please contact:
Dr Attracta Halpin, Registrar
National University of Ireland
awards@nui.ie / 01- 4392424
Facebook: National University of Ireland
For photography, contact awards@nui.ie
Full Listing of all winners