12.08.2010

The National University of Ireland office will open to the public on Saturday August 28th
from 10am to 5pm as part of the Merrion Square Heritage Open Day.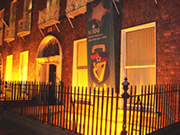 Note on No.49 Merrion Square
Number 49, on the east side of one of Dublin's best-known Georgian squares, has been home to the Central Office of the National University of Ireland since 1912. Situated as it is in Merrion Square, the premises are designated by Dublin City Council as a building listed for preservation in the category 'List 1', which includes the finest of historic buildings in the city.
The original Senate Rooms on the first floor of Number 49 contain a cycle of early nineteenth-century mural paintings. The cycle consists of a series of Italianate landscape paintings, which completely cover the walls from the dado upwards. A painted frame of illusionistic woodwork in red surrounds each mural separately. '[Robert Way Harty] commissioned a series of mural paintings for No. 49 Merrion Square, which represent Italian scenes taken from engravings of paintings by Claude Lorraine, Salvatore Rosa, Rubens and others. These murals combine to create a romantic interior of nobility and style for the t-shaped room….* In the absence of documentary evidence, the attribution of the paintings cannot be established. However, they are of very high quality and rank with any cycle in these islands. As illusionistically framed landscapes they are unique in Georgian Dublin, and are also protected by a preservation order.